This post has already been read 2200 times!
5 Must See Lighthouses in Michigan !
Lighthouses don't go running all over an island looking for boats to save, they just stand there shining.
– Anne Lamott
Maybe that is the reason, many of the lighthouses preserve more than 100 years of history and romance, and still attract large crowds. US has approximately thousand lights as well as light towers, range lights, and pier head lights. Out of that, Michigan has the most lights of any state with over 150 past and present lights. We recently planned to explore some of the iconic lighthouses on Lake Michigan. As we drove from Chicago around Lake Michigan, here is our list of 5 must see lighthouses.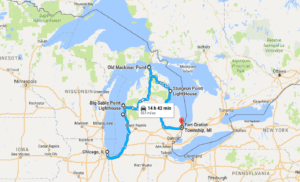 Little Sable Point
Little Sable Point lighthouse is located in lower peninsula of Michigan. It is in the southwest corner of Golden Township, next to Silver Lake State Park.  Next to the lighthouse there is  an excellent swimming beach where you can see  great sunset in the evening. There are about 200 parking spaces, but these are shared with beach users. Since this is part of a Michigan State Park, entrance fee is charged for automobiles from other states. Also, there is a nominal five dollar fee for adults who want to climb the tower, that goes towards  preserving the lighthouse for next generations.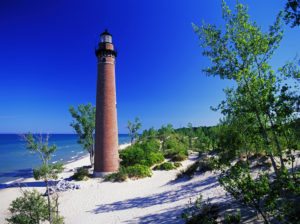 Big Sable Point
An hour drive from Little Sable, you can go to Big Sable Point Lighthouse, which is located in Ludington State Park. This park is located between Lake Michigan and Hamlin Lake, so there are 2 beaches on 2 lakes. It's one of the most popular state parks in Michigan and attracts lot of tourists and locals in the summers. You will have to really walk for some 30 minutes from the parking to go to the Big Sable light house. And if you want to climb up to the tower, add some 120 steps more. But the view from there is amazing, and it's worth the effort. Big Sable Point Lighthouse was made in 1867. It is distinguishable at night from Little Sable by having a fixed white light, and in the day by the Day mark of the tower, being banded in black and white.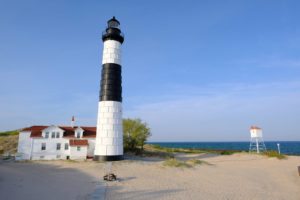 Another Lighthouse that we picked from our list was Old Mackinac Point.
Old Mackinac Point
Up in northern Michigan, where Lake Huron meets Lake Michigan, there are so many things to do. Founded in 1889, the Old Mackinac Point Light Station was in operation from 1890 until 1957.  Some Fifty narrow steps and an eleven-rung eight-foot tall ladder will take you to the top of the tower. It is said not everyone can do it, but should definitely try if you're over four feet tall, aren't claustrophobic, and have proper sports shoes on. So, wear your boots, not your flip flops and climb the ladder. This lighthouse is open May through October.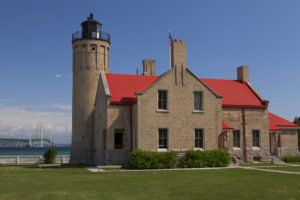 Sturgeon Point Lighthouse
The Sturgeon Point Light Station is on Lake Huron in Haynes Township, northeastern lower Michigan. Established to ward mariners off a reef that extends 1.5 miles  lake ward from Sturgeon Point, it is today regarded as a historic example of a Cape Cod style Great Lakes lighthouse. The light station was built in 1869 by the United States Lighthouse Board.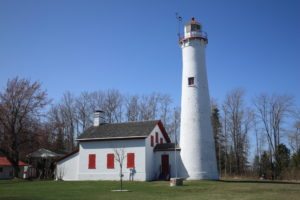 Fort Gratiot Light
Fort Gratiot Light, the first lighthouse in the state of Michigan, was constructed north of Fort Gratiot in 1829 by Lucius Lyon, who later became one of Michigan's first U.S. Senators.
The Fort Gratiot Light marks the entrance to the St. Clair River from Lake Huron (going south) in the southern portion of Michigan's Thumb. The light is still active and the grounds are an active Coast Guard facility, but it has recently been handed over to the Port Huron Museum. It is the oldest surviving lighthouse in Michigan. There is also a public beach and park on the property, known as Lighthouse Beach.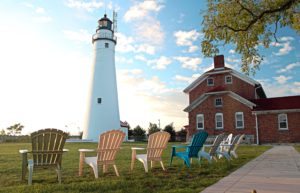 In my search of these light houses, I came across many small and very old light houses, and that is what ghoomnaphirna is all about. Discovering and rediscovering new places and sharing with everyone.