This post has already been read 2455 times!
Delhi to Jaipur and Pushkar road trip
During our India trip in December of 2015, we planned a short road trip from Delhi to Jaipur, Pushkar and Ajmer.
Jaipur is the capital of India's Rajasthan state, also known as "Pink City" for its trademark building colors. Jaipur is an enthralling historical city and the gateway to the most flamboyant and colourful state in India, Rajasthan. Jaipur, Delhi and Agra are part of Golden Triangle tours, and one of the most visited tourist places in India. There are lot of taxi services and private tours from Delhi to Jaipur, but we picked one of the upcoming start up KMPHtrips to help us for our itinerary.
Delhi to Jaipur Drive
We started our road trip at around noon time on Christmas day, and the idea was to drive for 4-5 hours and reach Jaipur before evening. As you start from Delhi and cross over to Gurgaon, you will notice construction happening all the way, and the contrast between newly constructed Gurgaon and old Delhi is very clear. Delhi-Jaipur highway is one of the very well maintained, and busy highways, and the drive was quite good. On the way we stopped in places enjoying local foods and also enjoying Subway, selling local subs to please the local tastebuds.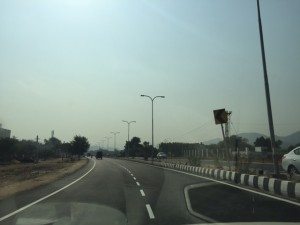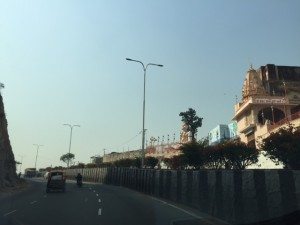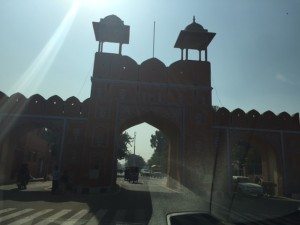 Amer Fort
Our first stop of that day was Amer Fort and we had taken the hotel near Amer fort for our night stay, KK Royal hotel. Amber Fort is located in Amer, a town located 11 kilometers from Jaipur. Amer Fort is known for its artistic Hindu style elements and design. Famous for its large ramparts and series of gates, the fort overlooks Maota Lake, which is the main source of water for the Amer fort. The good part about our hotel was its proximity to Amer fort. So after some rest,  we decided to go to Amer fort to see the Light and sound show.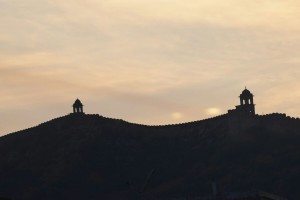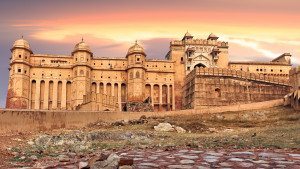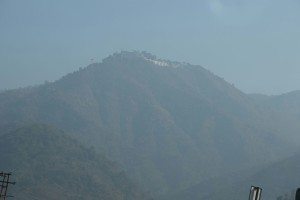 Tragedy and tensed moments – Green Card Lost !
For us next few hours at Amer Fort was unforgettable, not because of the light and sound show, but because I lost my wallet there. As usual the whole fun part was over and we were just trying to find the missing wallet, but we could not, and then the usual formalities of visiting the local police station, registering FIR, and what not. I will share that experience separately, so that it can help others, if they find themselves in similar situation. Apart from all the valuables in my wallet, US Green Card was also there, and now the Green Card was lost. For hours we were looking frantically everywhere for it. Registering FIR in local police station was another experience that I will never forget.
We came back to hotel late night, tired, exhausted, worried and tensed. We were debating whether we should continue the trip next day or not. But then we decided to go ahead, and let the kids see the heritage and customs of Jaipur.
A day in Jaipur
Next day morning we went to City Palace, in the heart of old Jaipur city. This palace was seat of Maharaja of Jaipur, Its a beautiful palace and shows the fusion of Rajput, Mughal and European architecture, with impressive and vast array of courtyards, gardens and buildings.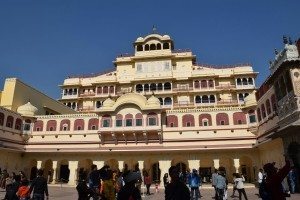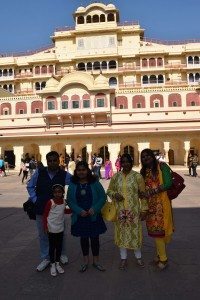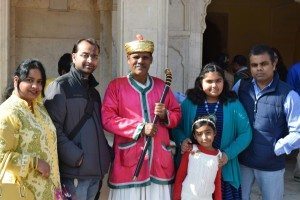 Because of the long weekend, it was very crowded at City palace, so we did not spend too much time there, and instead we came out to enjoy the Kathputli dance or puppet show, which is one of the famous art here.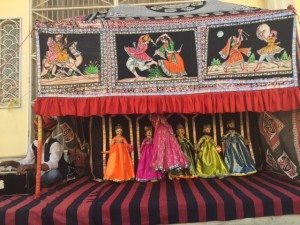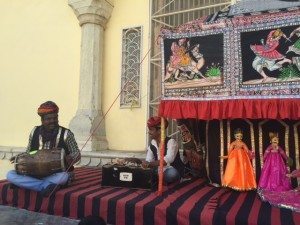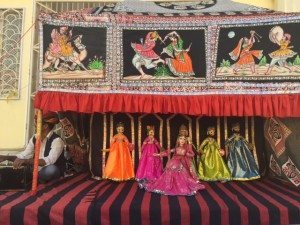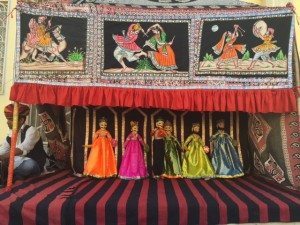 When you come out of City Palace, you will notice hundreds of pigeons there, if not thousand. Its again a local custom to feed the birds, and that is why you find so many of them flying all over. It does create inconvenience for tourists but without pigeons, this whole place will not be the same.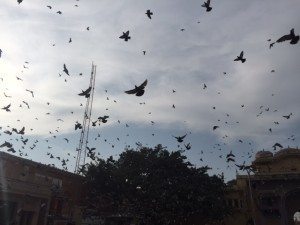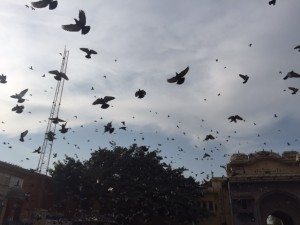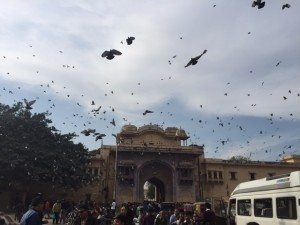 Next few hours we spent roaming around the old city, checking Hawa Mahal, and doing lot of shopping.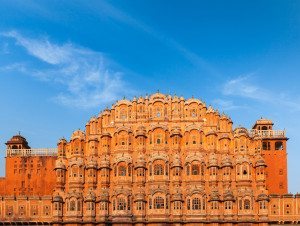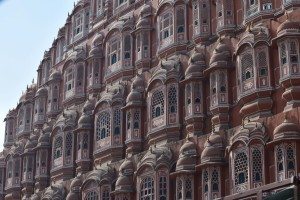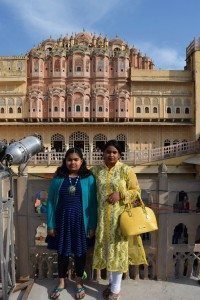 Jaipur to Pushkar
In evening we started from Jaipur to go to Pushkar. Jaipur to Pushkar is 2 hours drive but with all the traffic and crowd, it took almost 4 hours, and by the time we reached Pushkar it was 8 PM. The main highlight of our brief stay in Pushkar was night stay at outdoors luxury tents. Since we reached very late, not much we could enjoy there.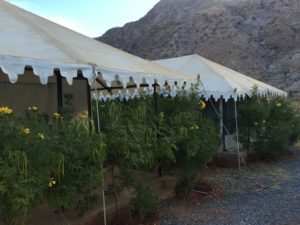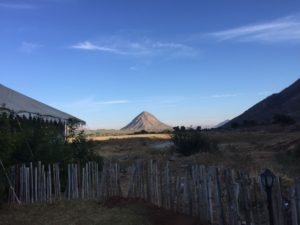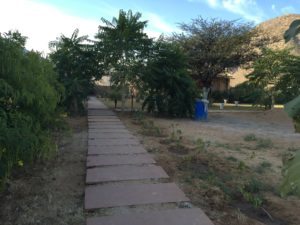 Ajmer Sharif Dargah
In morning, it was beautiful sun and hills all around. After spending some time there with breakfast and other sight seeing, we started drive to Ajmer from Pushkar. Within one hour we reached Ajmer and our plan was to go to famous Ajmer Sharif Dargah. After spending couple of hours there and later some shopping, we started from Ajmer to Jaipur.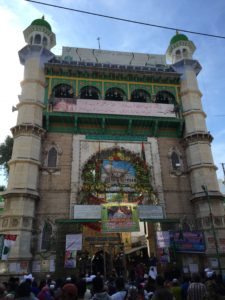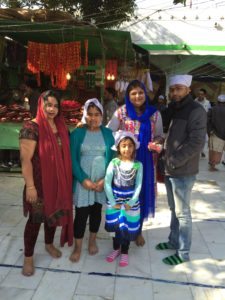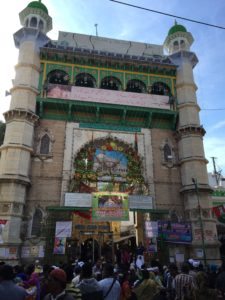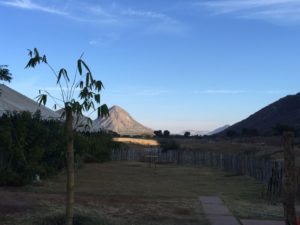 Drive from Ajmer to Jaipur and later Jaipur to Delhi was normal, except when we reached near Delhi. It was horrible traffic there and specially on the toll booths there was absolute no sense of traffic, just free for all. It was new to us, but somehow we managed to reach Delhi late in the night. Had we not lost the wallet, this trip would have been very different from our other road trips in US. But that loss, and later our experience of police station in Mewar made this trip unforgettable in any case.