This post has already been read 909 times!
Sleeping Bear Dunes
Sleeping Bear Dunes National Lakeshore is in Michigan's Lower Peninsula. It hugs the northeast shore of Lake Michigan and includes South and North Manitou islands. The park is known for the huge scalable dunes of the Dune Climb. We had been to Sleeping Bear Dunes once in December of 2016, and this place was full of snow that time. Hence we wanted to be back in Sleeping Bear Dunes in summer, and it turned out to be part of our #Covidtravel road trip.
This year we have been pretty much locked out at home due to pandemic and travel restrictions, and decided for a long weekend trip to Sleeping Bear Dunes, knowing it will be less crowded now as weather had started becoming colder. Also, safety and social distancing were the most important factors before we decided to hit the road. We had to choose very cautiosly where to stay, where to dine and finally when and which all places to visit in Sleeping Bear Dunes, to avoid crowds. After checking all the options we decided to stop over in Grand Rapids, so that we can cover Sleeping Bear Dunes in one day trip. Grand Rapids is a beautiful city, and had multiple options for hotels to chose, and that made our planning easier.
Chicago to Grand Rapids drive
We started for Grand Rapid on Saturday morning, knowing traffic will be lesser. Weather was sunny and with some mild winds, it was perfect day for out doors.  Distance from Chicago to Rapid City takes less than 3 hours so we had planned couple of stops for Fall colours as well as state park beaches. One of the park where stopped for an hor was was Warren Dunes State Park.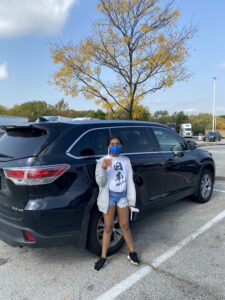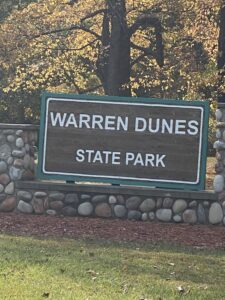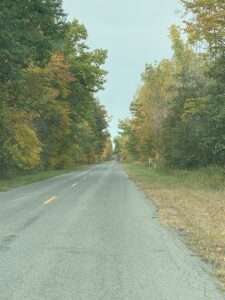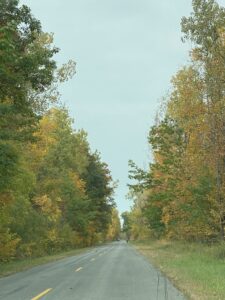 Fall Colors in Michigan
Any other reason for this road trip in Covid times was also to see the gorgeous fall colors in South Michigan. October mid is the time when the colors are at its peak in this area. Our trip and the photos that we took captured all those different shades.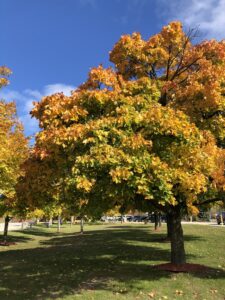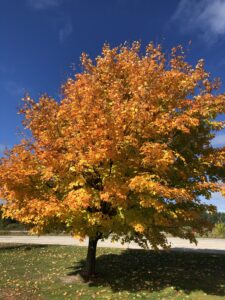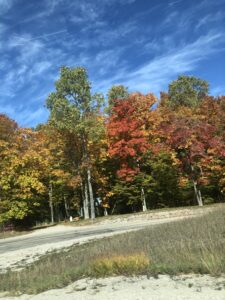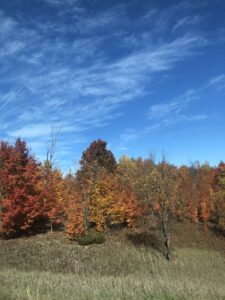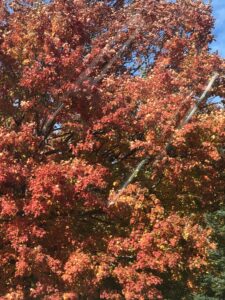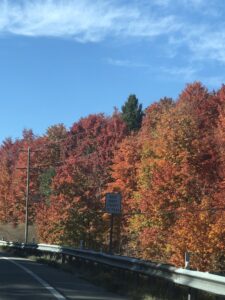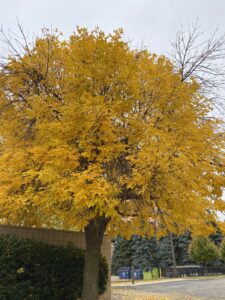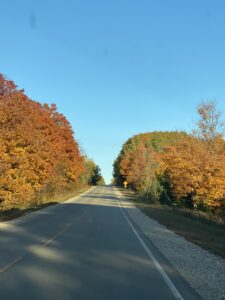 Marriott Grand Rapids
Once we reached Grand Rapids, we straight went to Marriott Grand Rapids where we already had our bookings. This was the first JW Marriott Five star property in MidWest and has been the center of attraction in Grand Rapids downtown for many years. Its location, as well as assurance of being Marriott property was the main reason for us to stay there. Although the cafeteria, pool as well executive lounge were closed due to pandemic, we had very relaxed and safe stay there for next two days.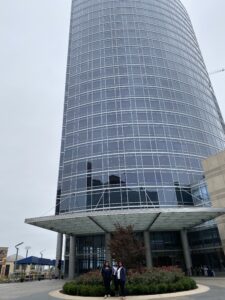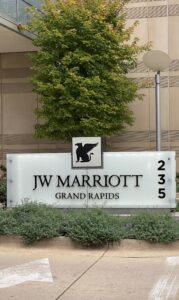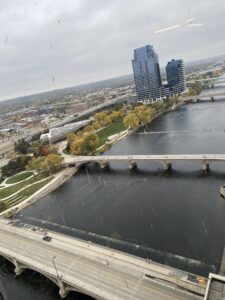 Grand Rapids to Sleeping Bear Dunes drive
Grand Rapids to Sleeping Bear Dunes drive is around 150 miles. We started early after having having breakfast at hotel. Due to the pandemic restrictions, dining areas as well as executive lounges were closed and Starbucks on the premise was only option for breakfast. We picked some to go food, and were on the road by 8:30 AM CST.
Visitor Center
After 2 hours drive we were there at The Sleeping Bear Dunes Park, and first we went to Visitor center, to check what all facilities are open and available. As Covid19 shut downs and restrictions were still in place, it was important to know what is open.
Dune Climb
Best part of this park is dune climb and if you love hiking or jogging this could be very refreshing exercise as well. If you have time, try hiking all the way to Lake Michigan. It will take around 2 hours, but the views on the way are simply amazing. Golden sand, wild bushes along the way, with some trees here makes this hike so unique.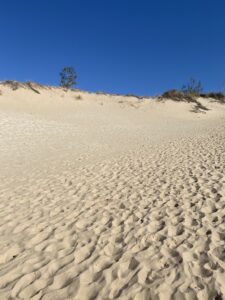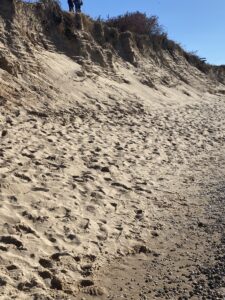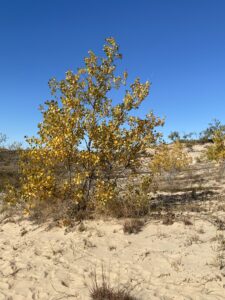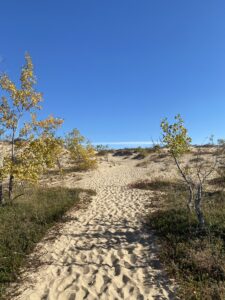 After hiking for almost 2.5 miles, crossing dunes after dunes, you see the blue water Lake Michigan. Pure, pristine and calm water along with sandy dunes those views are worth that 2 hours of hike. Do get down and spend some time at the lake. Walking back from the lake to the parking was afster and we were back at the parking place we started from.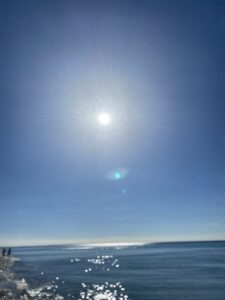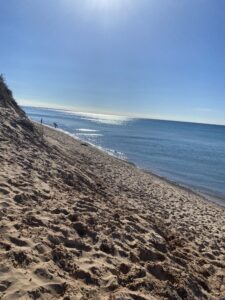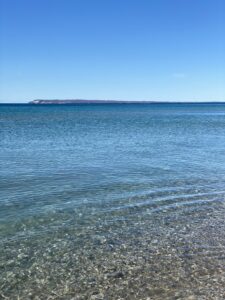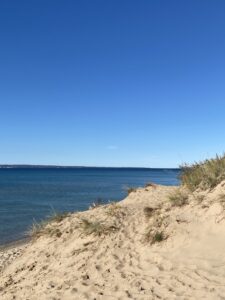 Glen Haven Beach
Next stop of our trip was Glen Haven Beach which on the other end of the park. From this beach, you can get a good view of the Manitou islands and you can see the pilings remaining from the old Glen Haven dock. Spending some time on the beach is very relaxing and its good place for a long walk if you prefer that. for the kids it was a perfect break from last 4 months of staying at home.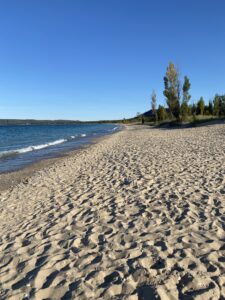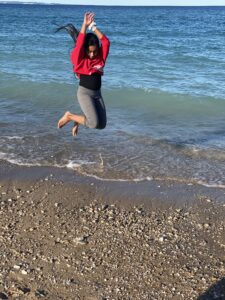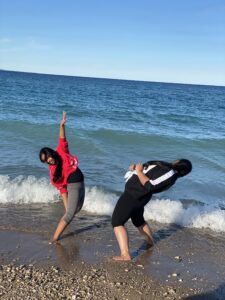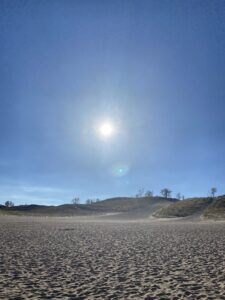 Later we spent an hour or two driving around the park. Pierce Stocking Scenic Drive is one such drive that has multiple scenic spots where you can take gorgeous pictures. its around 8 mile drive and you will enjoy every bot of this 20 minutes long scenic drive.
At around 5 PM, as it was getting darker, we started driving back. Reached at hotel around 9 pm after having dinner on the way, we were all tired and sleepy. This was our second visit to Sleeping Bear Dunes National Lakeshore park, and believe me its worth visiting again. If you have not been there, try once, its one of the best place to visit, if you are in Michigan.