Chicago to Pictured Rocks National Lakeshore
Pictured Rocks National Lakeshore  is one of the best gateway for a weekend trips, if you live in Chicago suburbs. We planned for Pictured Rocks many time earlier but somehow it was always missed as we went for longer road trips. Pictured Rocks National Lakeshore is full of natural formations, so much needed in this busy world. Sand dunes, beaches, cliffs, waterfalls, inland lakes along with miles and miles of deep forest. So many trails for hiking and sight seeing that can take many days to cover. Michigan Upper Peninsula is so beautiful and green, one can keep going there every year.
We planned for the trip durimng Memorial Day weekend after being in homes for so many months due to ongoing pandemic. Our plan was simple and wanted to keep it very relaxed trip as well. Along with our friends Alok and his family we finally went to this trip which was due for so many years.
Chicago to Munising Drive
Chicago to Munising, Michigan is around 6 hours drive via Wisconsin. We started on Saturday around 10 AM in the morning and idea was to reach Munising by later afternoon. We had lunch on the way in Green Bay area and post that we drove straight to the national park.
Pictured Rocks
Pictured Rocks National Park  has two visitor centers, Munising Falls Visitor Center and Grand Sable Visitor Center. As we entered into park from Munising town, we first stopped at Munising Falls Visitor Center and collected some maps and checked the timelines for various activities.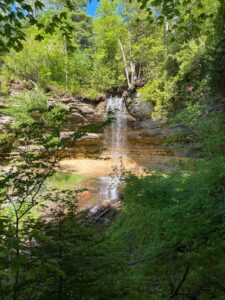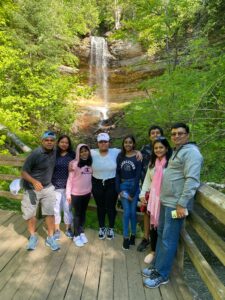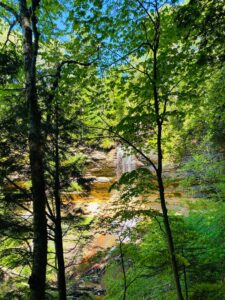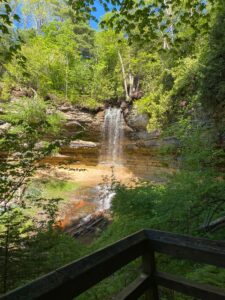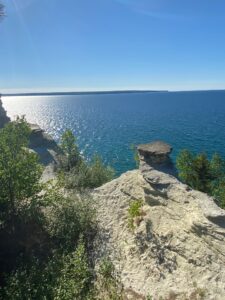 Cruise in Pictured Rocks
Pictured Rocks National Lakeshore is one of the best places to take a cruise. Beautiful lakeshore has so many picture perfect sites that you see from the cruise. Some of them includes East Chanel Lighthouse, Grand Island, Miners Castle, Painted Coves, Lover's Leap, Rainbow Coves and so many others. There are different Picturedrocks Cruise options available when it comes to cruise liners there, and we picked the Classic Cruise. It goes for 32 miles round trip and gives you ample opportunity to soak up the natural beauty of these rugged rocks. It also lets you to take as many beautiful snaps.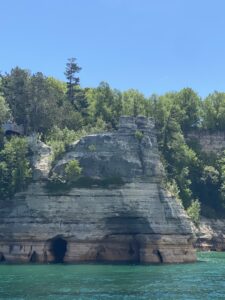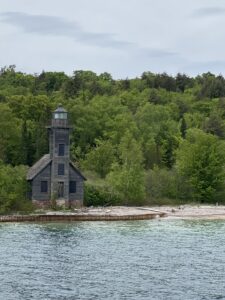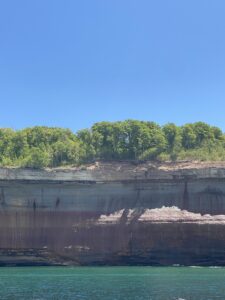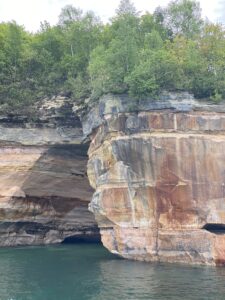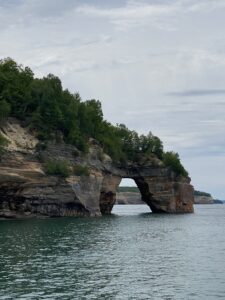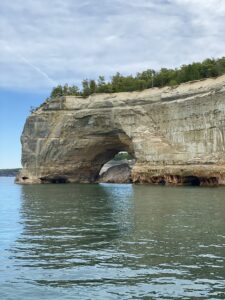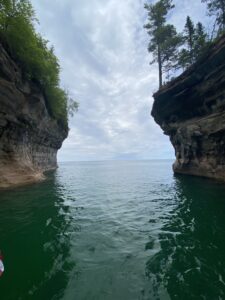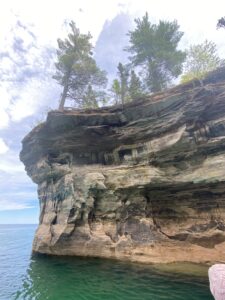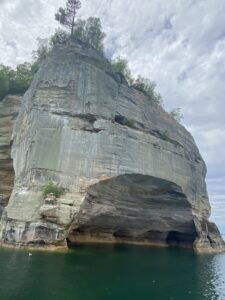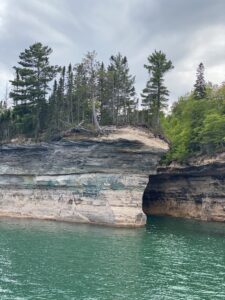 Hiking trails and Beach hopping
Along the lakeshore as well as outside of the national park there are lot of trails that you can go for hiking for miles after miles. It was nice sunny day and we spent 2-3 hours just walking around the trails and beaches.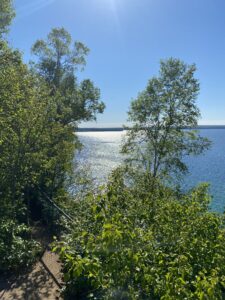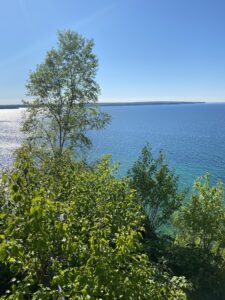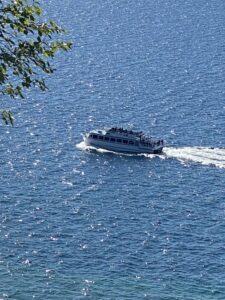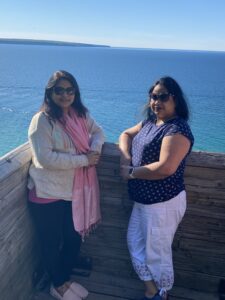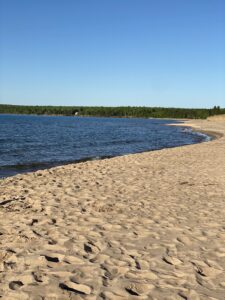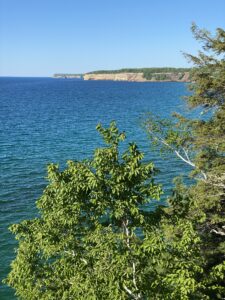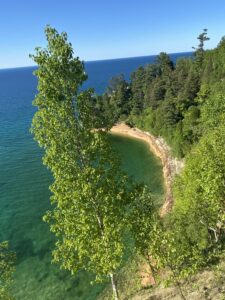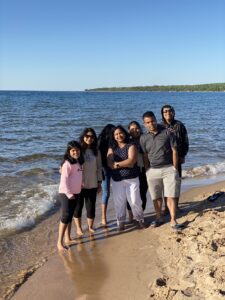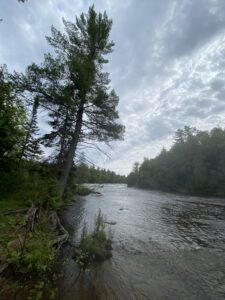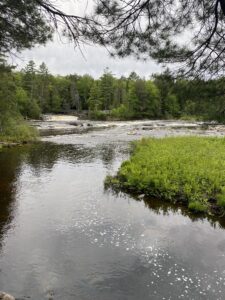 Tahquamenon Falls State Park
Tahquamenon Falls is around 90 miles from Munising. The centerpiece of the park, is the Tahquamenon River with its waterfalls. The Upper Falls is one the largest waterfalls east of the Mississippi. From parking lot, within 10 minutes walk you can reach the decks from where you will see the upper falls in all its majestic view. All the stairs and walkways are very clean and the views are very refreshing and full of greenery. We stayed there for an hour and that went in lot of pictures in different poses.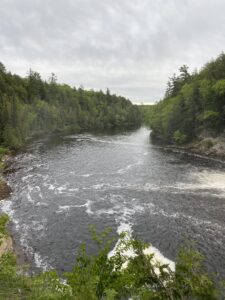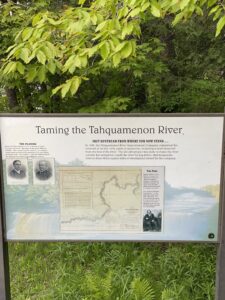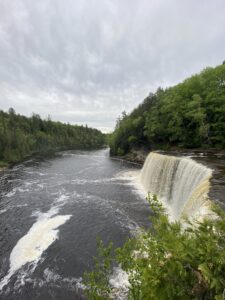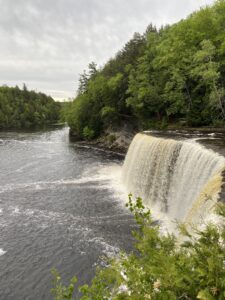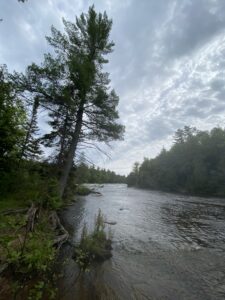 Four miles downstream is the Lower Falls, a series of five smaller falls cascading around an island. Although not as majestic as the Upper Falls, they are equally magnificent. The falls can be viewed from the river bank or from the island, which can be reached by rowboat. But the best part of the lower falls is that you can walk around in the ankle deep water on the rocks and enjoy the beautiful views.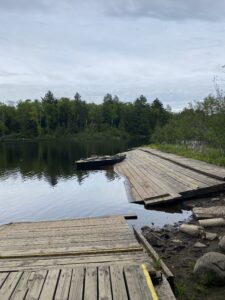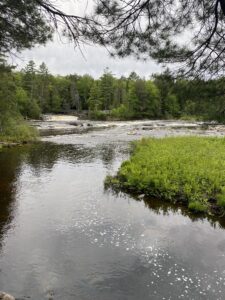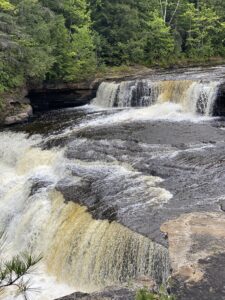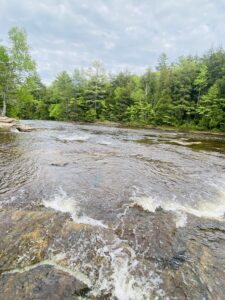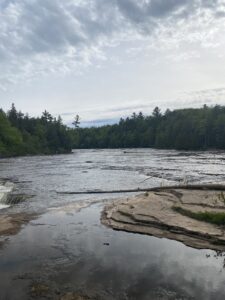 After spending couple of hours in Tahquamenon fall, we drove back to hotel, which was almost 120 miles away from the fall. Next day again we went to beach hopping close to pictured rocks shoreline and also spent time for some shopping etc. We started driving back for Chicago around noon and after almost 6 hours of drive reached home in late evening. Looking back it was one of the best weekend trips that we did with so many activities and so many scenic points.