This post has already been read 3709 times!
Ladakh and its unforgettable adventures
Ladakh is one of the most exotic location in India, known as Land of Passes. In greater Himalayas at the altitude of 9000 ft to 25170 feet, it is also called Roof of the world .  This region is isolated from the modern world like a lost kingdom. A land with intense spirituality following the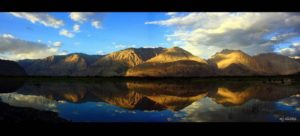 traditions and customs of Mahayana Buddhism.
For years we had heard about Ladakh and its highest motor-able roads, traversing through high passes and deep valleys, and snow covered mountains. So it was the only destination came to our mind, when we planned all boys adventure road trip for mountains. We were 7 friends, myself, Jeevan, Ajay, Dinesh, Sourabh, Gururaj, Nilesh planned this weeklong  trip. We took Pune to Delhi flight and from Delhi to Srinagar. From Srinagar to Ladakh we took the road trip.
Ladakh – Day 1
On day 1 when we reached Leh, we were welcomed by a frosty and chilly morning, and believe me that was not at all easy for us to acclimatize. We had planned lot to cover in seven days. We wanted to make sure that we capture each and every thing that this trip has to offer. We took first day to get use to weather and the harsh conditions. Just as it happens with young blood, we had come to Ladakh and everything was getting planned on the move.  After spending initial few hours getting used to weather, we went to a local monastery and later to stupas and the Leh Palace.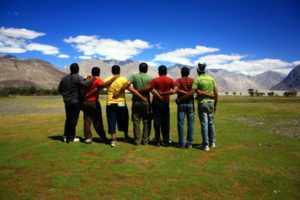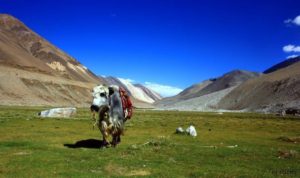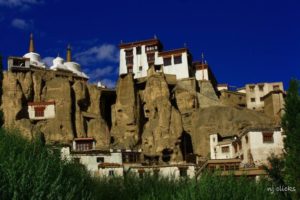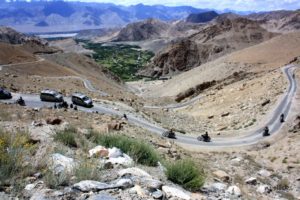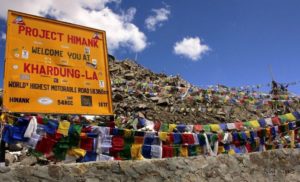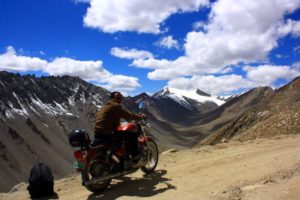 Grand Canyon of Himalayas – Day 2
Day 2 was full of rafting adventure, at the Zanskar river known as the Grand Canyon of the Himalayas. None of us had any rafting experience, and here we were doing the rafting on top of Himalayas. Sheer excitement of the adventure had overpowered all the caution and fear. We spent some time in quick lessons from the guide and then went into bone chilling water. The whole experience was very scary and emotional. It was rough in the start but once we made it downstream towards the end, it became easy and we were all pumped up. We challenged each other to swim in that cold water and yes we did swim for 10 – 15 minutes  in the river. On the way back we spent time at various stops to admire all the natural beauty and optical illusions created by rising and descending terrain.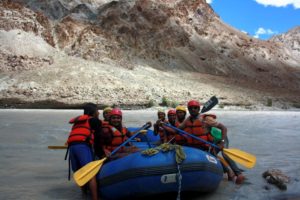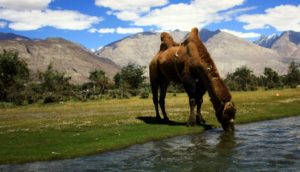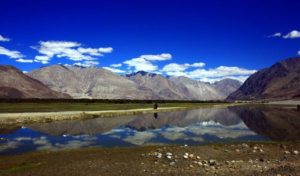 Mountain Biking in Ladakh – Day 3 and 4
On the day 3, we went on exploring Ladakh on motor bikes. Driving the bikes on some of the highest roads in the world is an experience you will not find anywhere else. We rented four bikes at Leh, and I was lucky enough to get my hands on old Royal Enfield bike. It was not in a good shape and did not even have a proper fuel tank lid, but it was Enfield, and that was it. We drove to Nubra Valley through Khardungla Pass, the highest pass in the world, and had tea and Maggi at the highest café in the world "Ringchen". I believe that was the best Maggi I ever had in my life.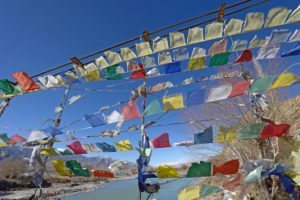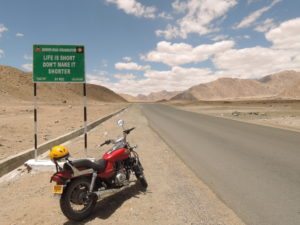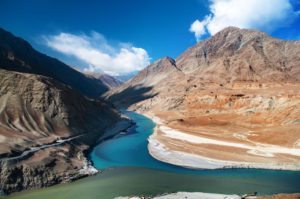 Kargil and Tiger Hill – Day 5 and 6
On day 5, we Started for Srinagar in a Sumo. The drive was hectic as we drove on narrow roads with a lot of sharp curves. Our driver was one great guy driving all the way changing gears and accelerator with finesse and honking in between. On the way we drove through some of the most beautiful landmarks like Lamayuru Monastery Lamayuru in Kargil District. Lamayuru is a small village in Ladakh, midway between Kargil and Leh on NH1-D, the Srinagar-Leh highway. Its also called Moon Land because of it Moonlike landscapes. We did stop at multiple points to sip Ladakhi chai, made of green leaves brewed in bamboo cylinder, adding butter and salt. That night we stayed at Drass 'The Gateway to Ladakh' a town in Kargil District.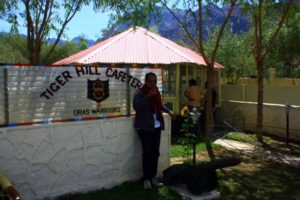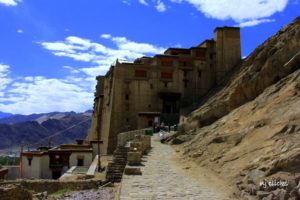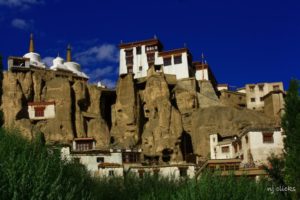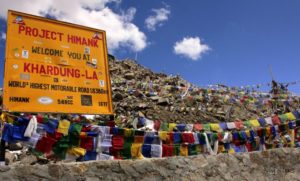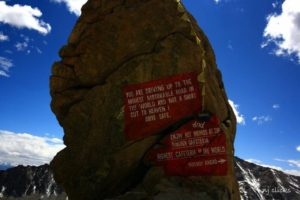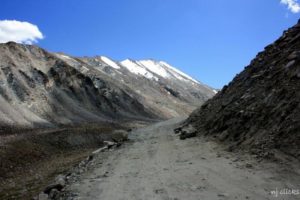 On day 6 after breakfast early morning we went to Tiger Hill point, Gulmarg. The Tiger Valley War Memorial is a key and Strategic Army base, a  not to miss spot. War memorial, is covered with inspiring quotes,  photos and some memorable war stories. Later in the day we moved to Gulmarg, a beautiful hill station and popular ski destination.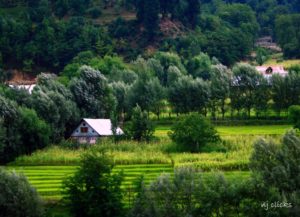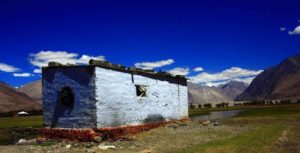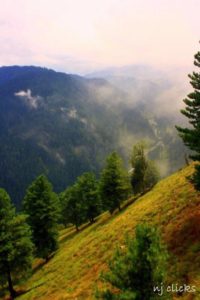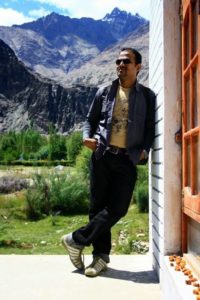 Srinagar and Dal Lake – Day 7
We spent that evening in SriNagar. The biggest challenge in Srinagar and Kashmir apart from everything else is, getting booze. There were only two known liquor shops one in Leh and the other in Srinagar that we had noticed during whole week stay. Myself and  Sourabh ventured out to buy some drinks in the evening and it turned out real adventure. There was a crowd of around 200 people standing in queue to buy  the liquor from the shop that opened only for 30 minutes, 08:00 pm to 08:30 pm. With lot of struggle we could get some bottles which were good for 2 days. Later we had sumptuous local Kashmiri food with Kashmiri chai "Kawah" brewed with green tea, cinnamon, ginger, cloves and saffron.
On Day 07, early morning we went to the famous Shankaracharya Temple, and later we went for Gandola rides, it was beautiful.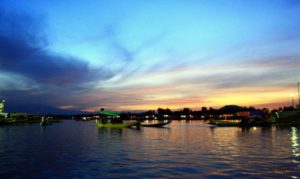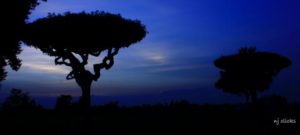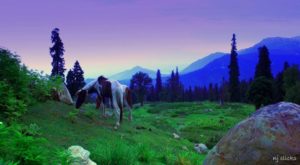 Last day of our trip we spent local in Srinagar, visiting the markets and doing lot of shopping and enjoying the beautiful views of majestic Dal lake. And that is how this all boys trip came to end, with lot of memories and adventures, that we will remember all our life. We took SriNagar to Delhi flight and later Delhi to Pune to came back. But we had lost our heart and soul forever, to those beautiful valleys and mountains of Ladakh.