This post has already been read 3354 times!
Chicago to Duluth road trip
Chicago to Duluth by road trip was our way of declaring the arrival of summers. It was the memorial day weekend after a long winter, when we planned our first long road trip of the year.For some time we were thinking of driving up to Duluth, in Minnesota a small but unique port town on Lake Superior, that largest freshwater lake in the world. We checked the weather forecast first just to make sure its going to be sunny and warm. We were just tired of long winter and wanted to go someplace. This trip was also little different as we had a larger group. Apart from four of us, we had our friends from Milwaukee Niraj and Shipra, and also sister in law Parul, brother in law Ankur, and their two little princess from India.
As usual we started planning very late, and found out most of the cottages and hotels are already booked for the long weekend. After long search We could zero down on a 4 bedroom house, Aani House few miles away from the downtown, in between lush green surroundings. Some quick negotiations over the phone and the house was booked for the stay. After completing all our office works, we started little late in the evening, and the idea was to cover the distance of 450 odd miles, and reach there by mid night. With good weather and easy traffic we cruised along well on I90 West and 53 North.
On the way to Duluth
In two SUVs, Our Highlander and Niraj's RAV4, we had quite a fun with driving on those empty roads in midnight.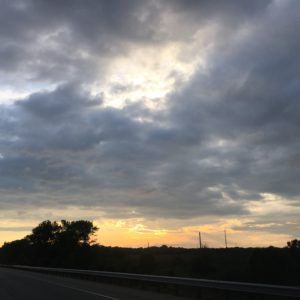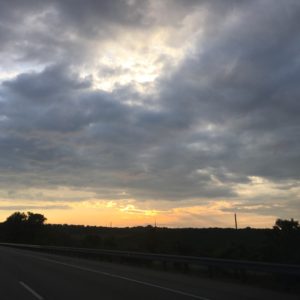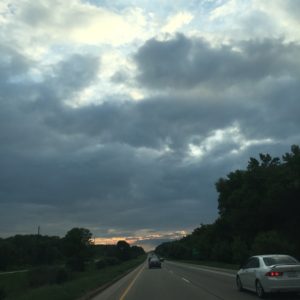 With one or two stops for gas and food we reached our destination past midnight, and boy it was a beautiful drive all the way. These pictures clearly show the fun of driving.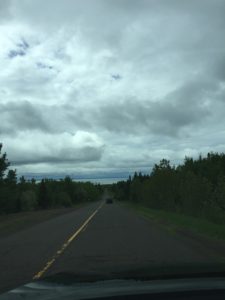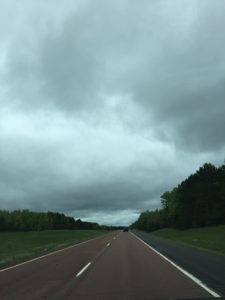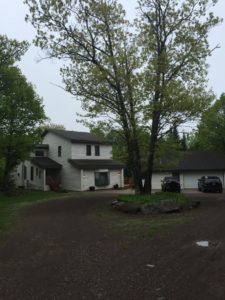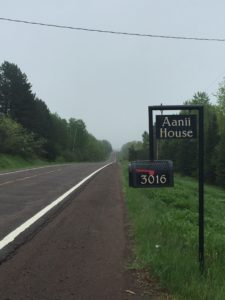 Next day morning we all woke up pretty late and had late breakfast while enjoying the lush green surroundings. Idea was to go to downtown and spend time there. Duluth downtown is not very big, and dominated by the Aerial Lift Bridge, and lake walk. We all spent next few hours walking on the shore, and clicking pictures. While we were enjoyed the evening, and fog that had engulfed the downtown, sudden drizzling was a showstopper.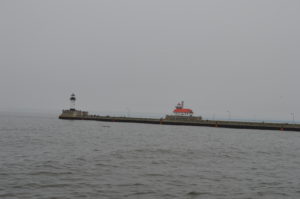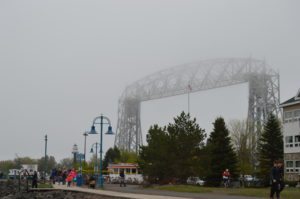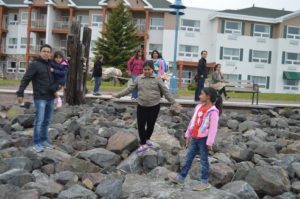 To avoid rains we decided to do go for early dinner at one of the prominent Mexican restaurant in the downtown. It was perfect setting for the lazy weekend. Crowded restaurant, a bit relaxed service and good food with equally good spirits kept all of us afloat.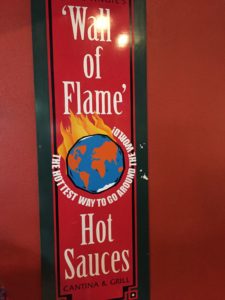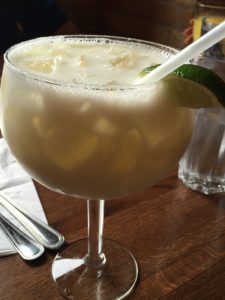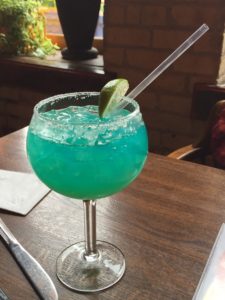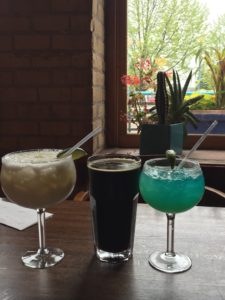 After food we spent some more time in downtown, and later went for drive on coastal scenic highway next to Lake superior and captured some of the best clicks of this trip.
In and around Duluth
We went on North shore scenic drive for miles and enjoyed every bit of coastal beauty and fun. We kept on stopping every few miles and went into waters to enjoy the cold waters and stones and sand. While we were coming back, we did get into one unfortunate incident, where one of car got hit by deer. It seriously damaged the front body of the car, but thankfully no one was hurt inside. Next few hours we spend in talking to insurance etc, and later went back home to home. Back at home we did make a quick trip to local super mart to get some vegetables and chicken for the grills. With everything together, it was long night with Budweiser, chicken, corn and other food delicacies.
Next day morning we woke up early and got ready to explore some of the scenic highways that Duluth offers, if you drive up north. There are multiple scenic routes and we decided to drive up north.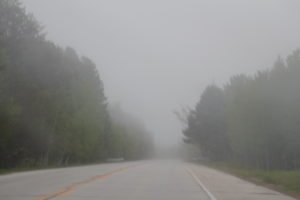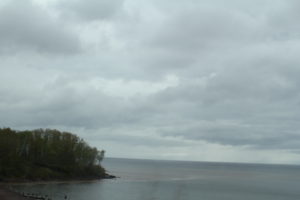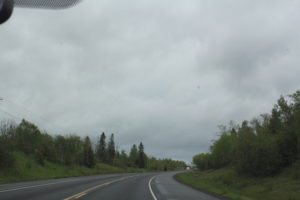 Palisade Head should be a definite stop for anyone driving on Route 61 going north on Lake Superior scenic drive. The views are amazing, if you are able to find the spots. IF you are driving fast, you may miss the spot. From the parking going up the road is very narrow and if you are driving a very big vehicle, it won't go up. Once you are on the top, you will see the stunning views of Lake Superior and the rock formations and cliffs on the side.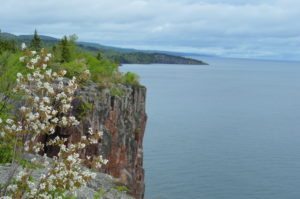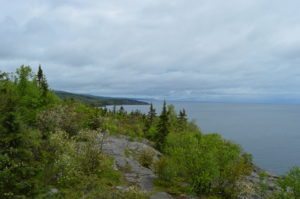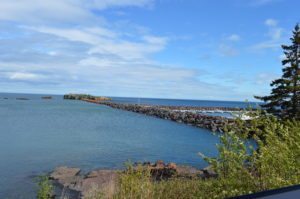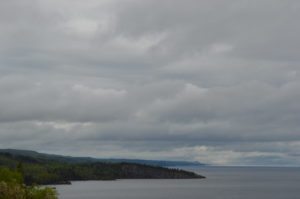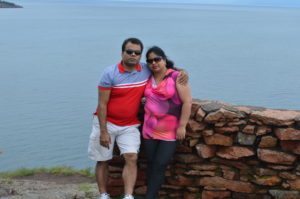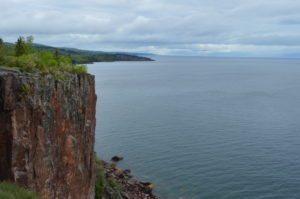 Gooseberry Falls state park is one of the most famous tourist spot on this side of the state. Its located on the north shore of lake superior and around 30 minutes drive from Duluth downtown. Apart from beautiful waterfall this park has much more to offer in terms of hikes, picnics and walk around the river, and above all bird watching.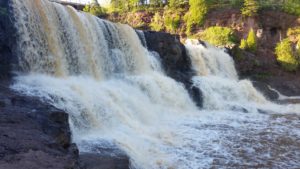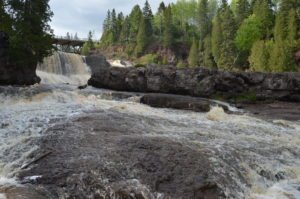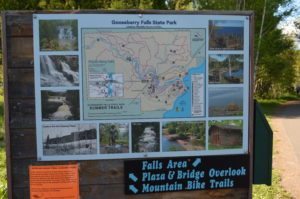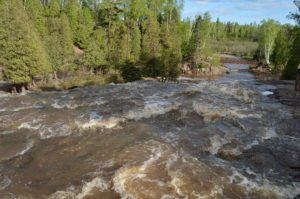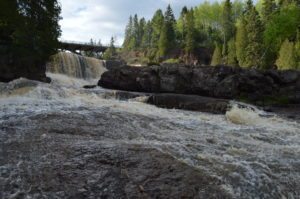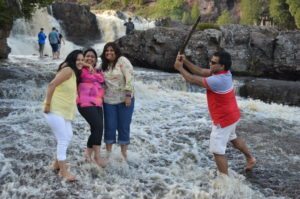 That day evening we went back to downtown, and walked all around the bridge and light house capturing different shades of nightlife of this attractive town.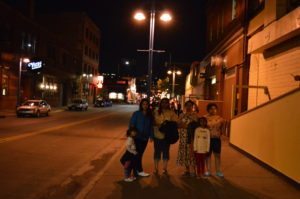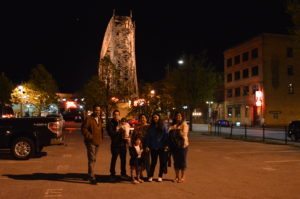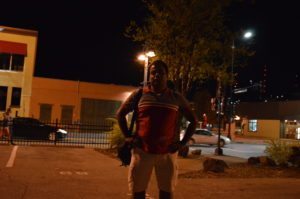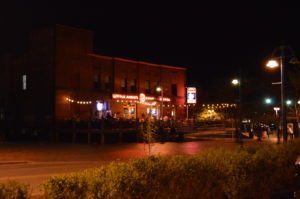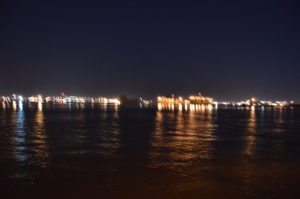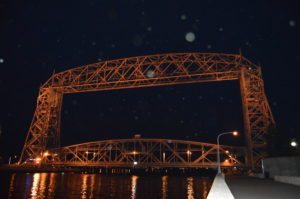 Last day of our trip was mainly around spending some quality time with kids in the woods and also enjoying the sun which was finally out in Duluth. Last two days it was mix of drizzling and breeze but finally we had our moments in warm sun and greenery all around us. In afternoon, we started driving back home, and covered 450 miles of journey in next seven hours, enjoying every bit of drive again.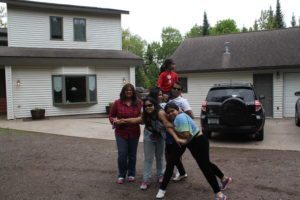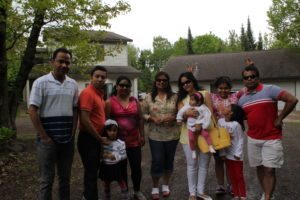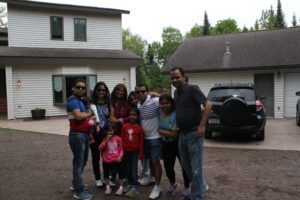 There are so many things to attractions here in Duluth that we could have easily spent few more days, but it was weekend trip only and we picked some of the best attractions in our packed itinerary. Hope there will be another opportunity to come back to this beautiful town of Duluth. Chicago to Minneapolis flight and then Minneapolis to Duluth by road, is another way to go there, if you want to save on time. Its a beautiful getaway for any weekend.