This post has already been read 1601 times!
Chicago to Myrtle Beach drive
Myrtle Beach is one of the most visited beach on east coast US specially in summers and fall. We decided to give it a closer look in harsh winter when the temperatures were almost touching zero degree centigrade. Thought was little crazy and as usual there were lot of ifs and buts whether we should drive almost 1000 miles to the beach when you can not even go in ice cold water, and what not. But then, as usual we decided to go and take a plunge, and believe it or not, it was the right decision for so many reasons.
Chicago to Myrtle beach distance is around 950 Miles, and it adds few more when we started from Hawthorn Woods, north suburb of Chicago. Drive time from Chicago to Myrtle beach is around 15 hours. We divided our drive in two parts. Drive from Chicago to Pigeon Forge, TN was done in first part and drive from Smokey Mountains to Myrtle beach was kept for part two.
After some heavy snow days in Chicago land we started our road trip on 22nd of December. Picture below, can tell how weather and road conditions changed as we drove from snowy Chicago to sunny Kentucky.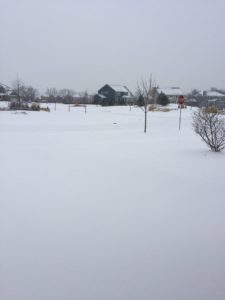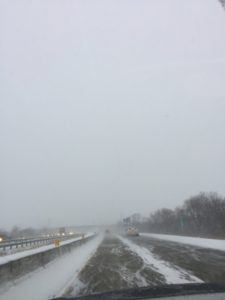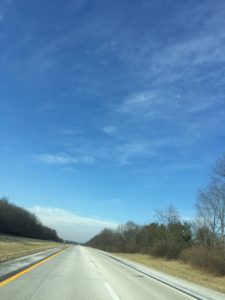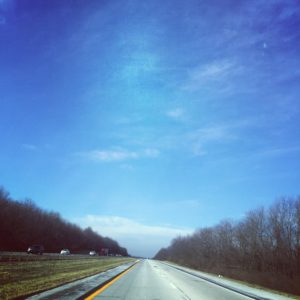 Chicago to Pigeon Forge
We drove through Indianapolis, Knoxville and later reached Pigeon Forge in night. Idea was to spend Christmas in Smokey Mountains and, it was truly magical. Christmas lights in Gatlinburg and Pigeon Forge are amazing and local shops and diners they all light beautifully. We spent next three nights in Pigeon Forge and Gatlingburg and it was one of the best Christmas times we had. Walking around those small towns looking at well lit shops with festival spirits all around, it was magical moments.
Smokey Mountains to Myrtle Beach
From Pigeon Forge TN to Myrtle Beach distance is around 400 miles, and most of the route is very scenic. As we drove through Great Smokey Mountains, all those turns, climbs and then steep valleys they kept us on our toes. But as we entered in North Carolina and later in South Carolina, it was all flat. Last 2 hours of drive as you start reaching closer to Myrtle beach become little boring, with 2 lane roads and speed limit of 35 or 40 miles per hour.
Myrtle Beach in December
We reached Myrtle Beach late in the evening and it was getting dark outside. We stayed in one of the hotel on the beach, and the views from balcony were gorgeous. The best part of being there in December was, that it was so quiet, and peaceful. No crowds, no rush and absolutely no hurry to do any thing. Just look at the waves and and the birds in the sky. the whole beach was ours, with hardly any one there. In the night, we spent lot of time walking on the beach and Broadway, taking beautiful pictures at will, there was no one to bother us.
Myrtle Beach Sunset
 
 
Myrtle Beach Helicopter ride
Taking helicopter ride on one sunny day was another memorable decision. Taking pictures of beach from almost 500 meters was unique experience for both our daughters. And the majestic beauty of Myrtle beach every where to see.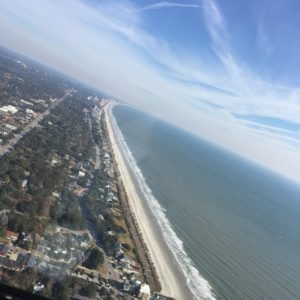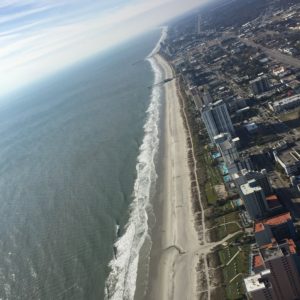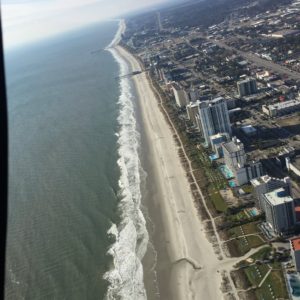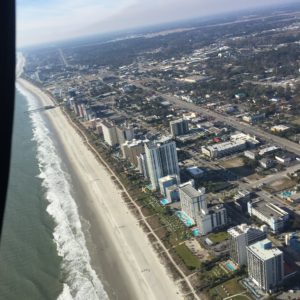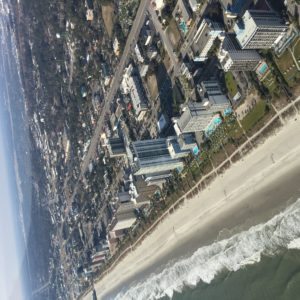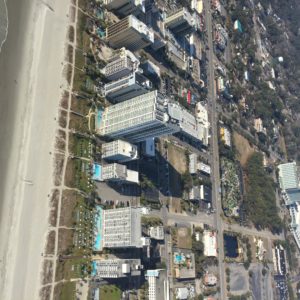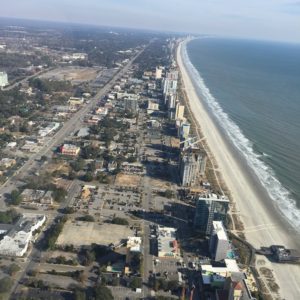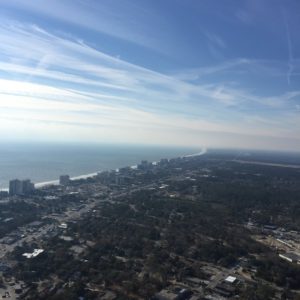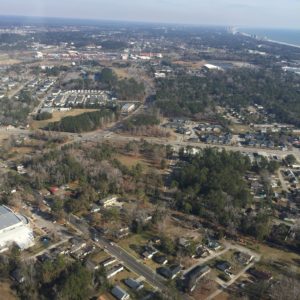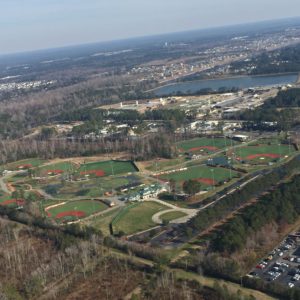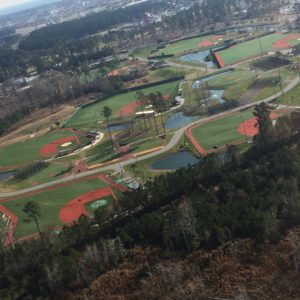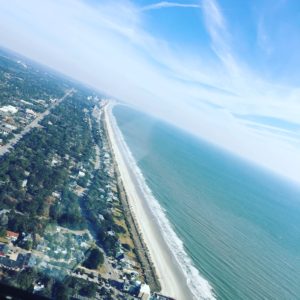 According to Condé Nast Traveler, "Though it's one of the newer boardwalks in the country, built in 2010,  Myrtle Beach Boardwalk has quickly become a staple on the eastern seaboard. The 1.2-mile walkway is filled with everything you'd find on the historic ones—shops, rides, jugglers, and restaurants.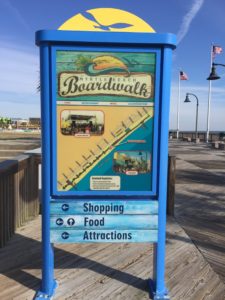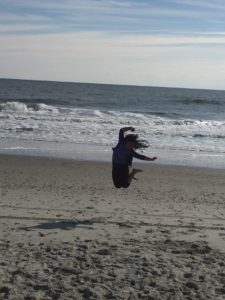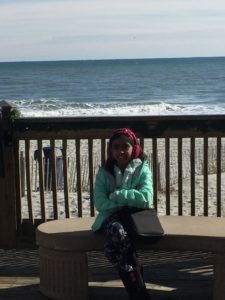 We spent all three days at the beach, and avoided all other attractions, shows, museums etc. With freezing temperature, and some sun, at the beach we enjoyed sea foods, fries and few drinks here and there. It was all fun and family time.
Myrtle Beach to Chicago drive
As we approached our forth day in Myrtle beach there was forecast for winter storm and and harsh weather, so we cut short our one day of stay there, and started back. While driving back we stayed in Knoxville for the night and next day drove back to Chicago. We reached home again to see snow covered side ways and freezing temperatures, back to the grind 🙂 after enjoying some sunny days with ice cold waves in Myrtle Beach. That was our last road trip of 2017, and added one more memory in our long list of adventure road trips.