This post has already been read 2756 times!
Windy city to Indy City road trip
We have been in Midwest for many years now, and have been doing road trips that took us to remote corners of the country. But somehow Indy City was always left out from our itineraries. We crossed those cross roads every time we drove from Chicago to New York, Chicago to New Jersey or Chicago to Atlanta or Chicago to Florida, but stopping at Indy City to spend few days did not happen. But after visiting Indianapolis this weekend, we realised that it was meant to be taken seriously. Indianapolis or IndyCity as is called, is a city that will charm you with so many war memorials, monuments, museums and beautiful downtown.
Drive from Chicago to Indy City, ie Indianapolis is little over 3 hours, approximately 210 miles. We started late in the evening, and idea was to reach Indianapolis in night and relax and sleep. Next day was Sunday, and after having relaxed breakfast we drove to the downtown Indy,and our first step was White river visitor center to collect few tourist maps for the Downtown Indy. Dotted with so many attractions, Indy city downtown is a delight for tourists. White River State Park itself houses Indiana State Museum, the Indianapolis Zoo, the White River Gardens, NCAA Hall of Champions, Victory Field and Military Park.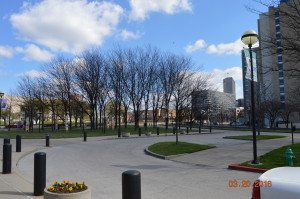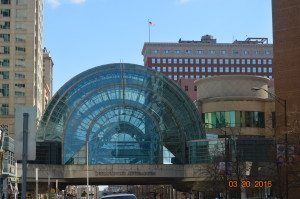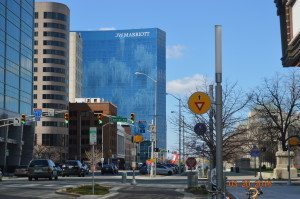 Downtown Indy
The epicenter of the 12th largest city of USA is marked by the Soldiers and Sailors Monument, where you should climb some 300 odd stairs to get to the top and enjoy a 360-degree view of the city. Even being in the center of city, this monument works its charm on you like nothing else. The Col. Eli Lilly Civil War Museum is housed in the lower level of the monument. Entrance is free and it portrays Indiana's contributions to the American Civil War from home front to battlefield. Museum exhibits and audio-visual displays cover various aspects of soldiers' lives during the war, including long marches, camp life, the battlefield, hospitals, prisoner of war camps, and the soldiers' final return home.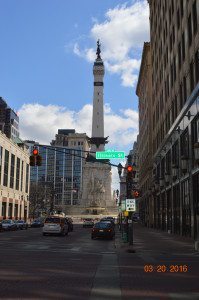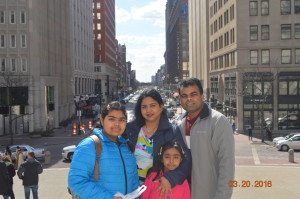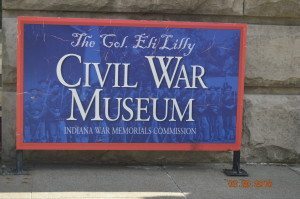 We spent next few hours just walking around the monument, and there are lot of restaurants in that area so you can have some good treats. We had quick lunch at Qudoba, with nachos, beans and fresh guacamole. You can never go wrong with that combination. Second on our list was the museums in downtown, Eitheljorg museum and State museum of Indiana, both of them are at walking distance in downtown.It houses an extensive collection of Native American art, as well as Western American paintings and sculptures. Next to it is Indiana State Museum, that houses exhibits on the science, art, culture, and history of Indiana from prehistoric times up to the present day. The museum also has large IMAX theatre and multiple art galleries.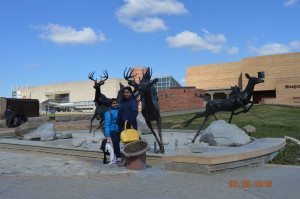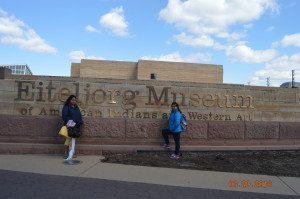 World war memorial was next on our list. Dominating the five-block picturesque setting of War Memorial Plaza in downtown Indianapolis, the Indiana World War Memorial sits 210 feet above street level. This limestone and marble memorial pays homage to soldiers killed during the war and also houses an outstanding  museum that portrays American military history from the Revolutionary War to present day.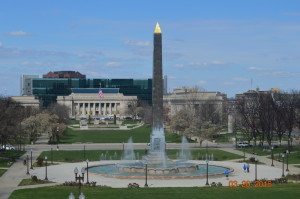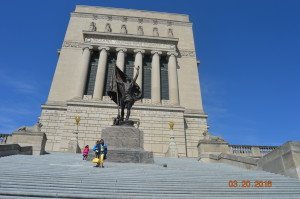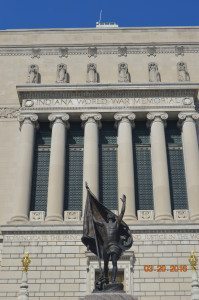 After spending some time in museum, we went back to hotel to take some rest. Idea was to come back to downton to see these marvelous buildings in the lights, and what a right decision that was. We took some stunning pictures in the downtown that shows the best of Indianapolis.
Indianapolis Downtown at Night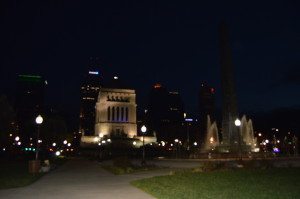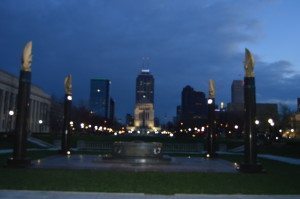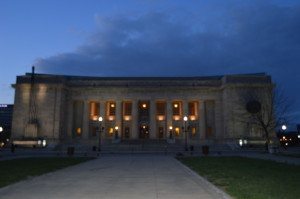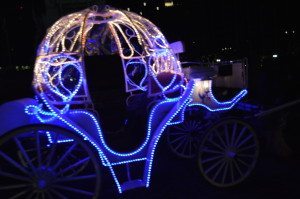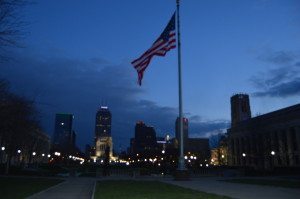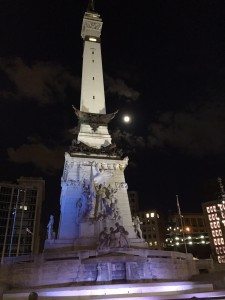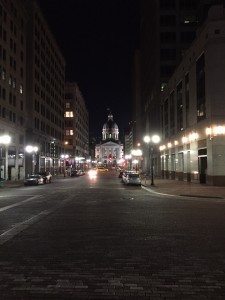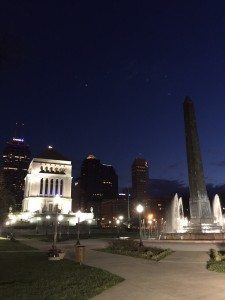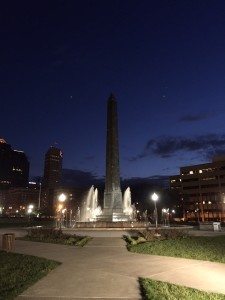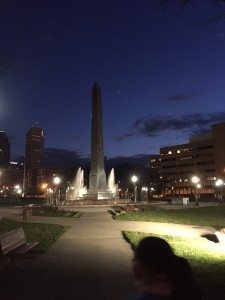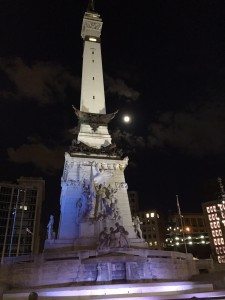 If you are in Indianapolis even for a day and you have only few hours at your hand, go and pay visit to war memorials. Indianapolis devotes more acreage than any other U.S. city to honoring nation's fallen, and is second only to Washington,  DC, in the number of war memorials.
Next day of our trip was focussed more on the Children's Museum. The Children's Museum of Indianapolis is the world's largest children's museum.Founded in 1925 by Mary Stewart Carey with the help of Indianapolis civic leaders and organizations, it is the fourth-oldest such institution in the world. So much to see & do here – even for adults it's quite interesting, but our girls absolutely loved it.while Dinosphere has its own charm, one of the best thing we noticed was Terra cotta warrior exhibit. We spent good amount of time in China pavilion, and it was so educational to look at and read lot of things about China.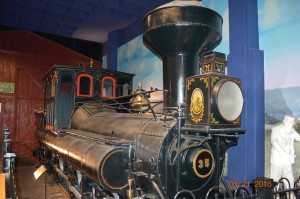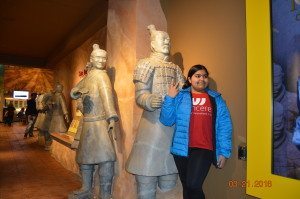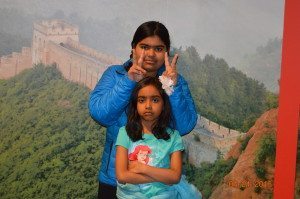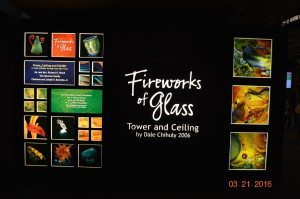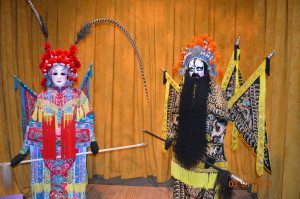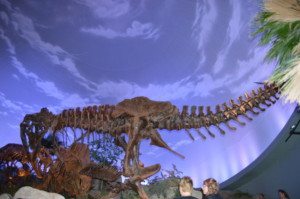 After spending almost whole day in Children's museum we were running late on our timings, so we decided to keep rest of the attractions for our next trip. There are so many attractions here, Indianapolis Zoo, the White River Gardens, NCAA Hall of Champions, Victory Field and Military Park, Indianapolis Motor speedway, central canal etc, and you need more than a weekend to cover all that IndyCity has to offer.