This post has already been read 2742 times!
Stamford to Lake George road trip
Lake George, a gem of the Adirondack Park in Upstate New York, is one of the most beautiful lake on East coast of USA.  Its close to 32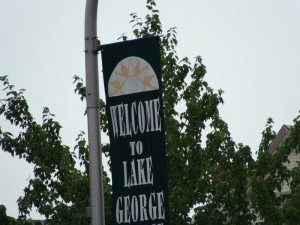 miles long, 3 miles wide at its widest point, and reaches depths of nearly 250 feet.  Nicknamed as "Queen of American Lakes" Lake George has very rich history as well. This lake was first discovered in year 1609 and has been witness to many wars between colonial forces of British and French. Throughout its history, it has been one of the most visited tourist spot. Lake George is accessible by car via Interstate 87 and by air from Albany International Airport, which is about 45 miles away.  Around the year, Lake George has many events and shows, that bring thousands of visitors to this area. Depending on weather, one can enjoy all kind of outdoor activities. Right from hot balloon rides, paragliding, water skiing, horseback riding, tubing, and much more.
From Stamford, Connecticut to Lake George distance is about 200 miles, and that is why it was one of the best spot for weekend getaway, while we lived in that area.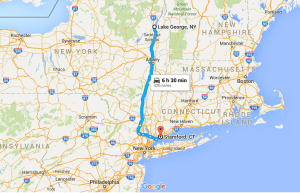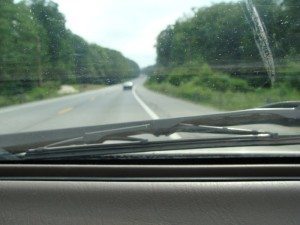 Drive from Stamford to Lake George is very scenic, and the roads are also good. We had started early morning of Saturday and idea was to reach there by noon.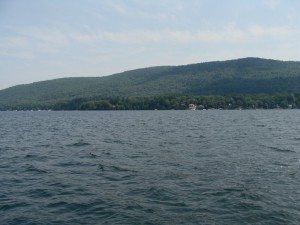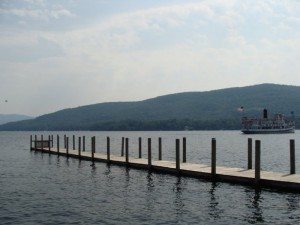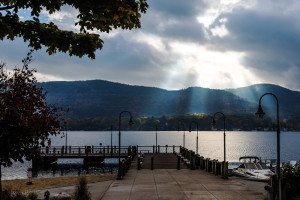 Lake George area is full of greenery and vegetation, that we miss during our daily city lives. There is so much to do and see for every member of the family every minute of the day!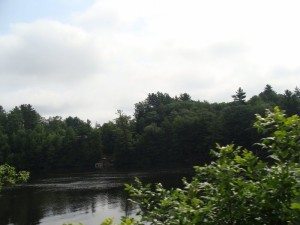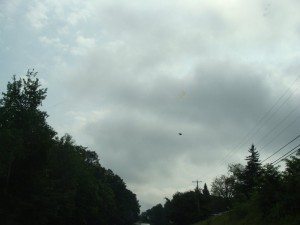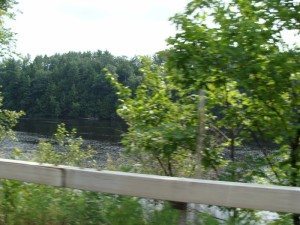 Parasailing in Lake George
Parasailing was another high light of our visit to Lake George. That was our first experience of parasailing, and doing so over gorgeous Lake George is still very fresh in our memories.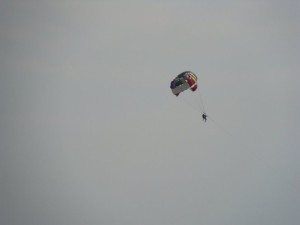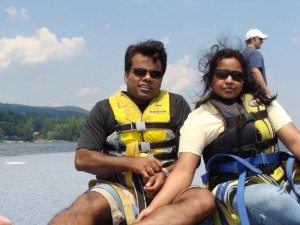 Water Rafting sports at Lake George
One of the exciting activity that we enjoyed was Adirondack white water rafting in the Hudson River Gorge, which is one of the most scenic area of New York State, when the weather and rapids are warm. We all had a great time in the waters with plenty of entertaining rapids mixed with a complete day in the Adirondack wilderness.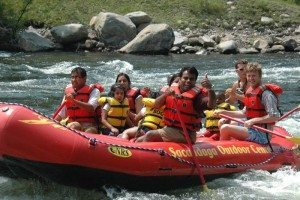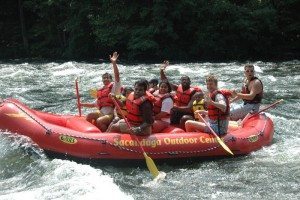 Lake George downtown has lot of options for dining and recreation. Like any good town, it has tons of options that will satisfy your sweet tooth. From candy stores to fudge shops to candy-apples and giant cotton-candy, this place is a desert lover's dream!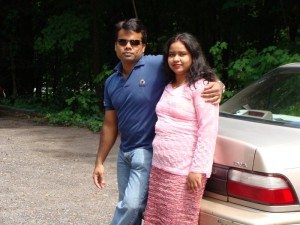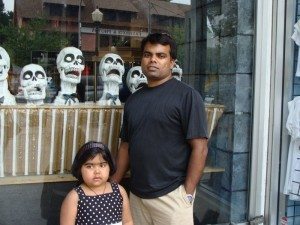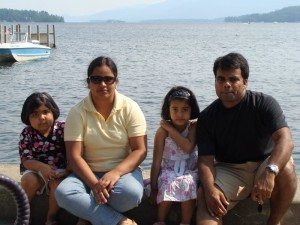 You can not end your vacation without shopping in Lake George!  Whether you want discounted clothes at the Lake George outlets or a gift from a local shop on Canada Street, there are plenty of options there. Nearby factory outlets, Adirondack Outlet Mall offers over a dozen famous name outlet stores filled with great savings every time you shop. Our two days there went so fast that we did not had anytime to rest. We stayed in a hotel near downtown and with all the outdoor activities and walking around, we were all tired by Sunday evening. Driving back to Stamford was not that eventful, but the memories of Lake George will always remain fresh.