This post has already been read 2973 times!
Road trip around Lake Michigan
It was more of a post dinner discussion on one night, when we were talking about going to Mackinac island. While we started planning for the same, we realised that we may end up doing a complete drive around the Lake Michigan, apart from going to gorgeous  island. Mackinac Island is a beautiful island and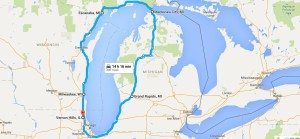 , with close to 4.0 square miles in land area, in the state of Michigan, in USA.
It is located in Lake Huron, at the eastern end of the Straits of Mackinac, between the state's Upper and Lower Peninsulas, and the only way we can go to Mackinac Island from the US mainland is by boat. This entire island is listed as National Historic Landmark and known for its ban on almost all kind of motor vehicles, and grand architectural styles and events.
Our plan was to drive from Vernon Hills to Milwaukee where our other friends joined us, and we two families started for Mackinac Island on one Friday evening. We chose to drive up north in Wisconsin, via Green Bay and idea was to stay in some place which is not very far from the place we need to take boat ride. After some search of that area, we zeroed down on Escanaba in up north Wisconsin for the night. Its a quiet, very soothing drive far from the ho hum of large cities, as we drove past Green Bay and reached Escanaba around 9 PM in the night.
Next day morning we drove further to Mackinaw city, where we parked our cars and took the boat ride to Mackinac island. 45 mintes boat ride gives you ample time to soak everything around you, crystal clear water, no pollution, and calm. As you reach the other side to get down at Mackinac island, a new world awaits you and your senses.
Here are some of the pictures that describes next day activities. Since there are no motor vehicles allowed on the island, cycles are the best mode to raom around, and see the natural beauty and feel the freshness in air.
As we drove around mighty Lake Michigan, it was a pleasant surprise to pass through so many scenic patches and so many sleepy towns that some time you wish to just stop there, to breathe a little more and to stretch your body once more. Its that calm and quiet most of the time, especially when you are there up north, far from the city crowds.