This post has already been read 2069 times!
Los Angeles to Yosemite & San Francisco
Yosemite National Park is one of the most visited tourist place in USA.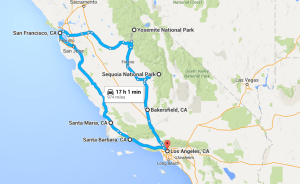 When we decided to go there, we wanted to ensure that we cover the whole area and bring back memories that stay lifelong. After lot of planning we decided to fly from Chicago to Los Angeles, and take a rental car there, which can take us to all the places we want. We flew in the week of March 2011. People who follow Cricket will know, how critical that week was. It was the time when Cricket World cup was happening there in India, and the way team India was playing, it was certain they will go till last. So, I being one of the most passionate Cricket fan, was keeping an eye on the games and latest score cards, thanks to cricinfo and also driving to the places that were always part of a dream.
Los Angeles to Sequoia National Park
So we landed in LA in last week of March. Flew from Chicago to Los Angeles airport and arrived there in the night. We quickly took the rental car, and drove to Bakersfield, the idea was to be as close to our destination as we can in the night. Bakersfield is one of the best place for stopover for anyone who wants to drive further to Sequoias and to Yosemite. Next day morning, we packed our bags again and drove from Bakersfield to Sequoia National Park, famous for its redwood trees. As you drive towards Sequoia National Park you will start seeing the landscape changing, from the plains and farmlands of central California, you will start seeing the huge cedar, fir and pine Trees. But when you enter the park you will notice those cedars and firs are too small in front of giant Sequoias. Anyone who has been to Sequoia national park will go to Sherman Tree, and we so do we, after all it is the largest tree on this planet. Standing in front of the tallest tree on the planet, it just makes you humble.
Yosemite National Park
After spending whole day in Sequoias, we drove from Sequoia National Park to Yosemite and stayed in small town of Fresno for the night. Next day after breakfast, we straight drove to Yosemite National Park. This huge national park is set within California's Sierra Nevada Mountains. It's famous for its giant, ancient sequoias, and for Tunnel View, the iconic vista of towering Bridalveil Fall and the granite cliffs of El Capitan and Half Dome. Among all the national parks, people rate Yosemite in top 3, and majority of people rate it number one. For April morning, when we entered Yosemite it was snow all around with temperature neither very cold nor warm. Yosemite Valley and the cliffs, some of which were still covered with snow were all shining under the sun. Because of the snow some of the passes and tunnels were closed which was a letdown, but we had planned only a day in Yosemite and it had lots of sight seeing places to cover in a day. Another good part was it was not very crowded because of weather, and we had all the time and privacy to get the genuine feel of awe inspiring views of Yosemite. After spending whole day we drove out and started our journey from Yosemite to San Francisco.
ICC World Cup Final 2011 and Golden Gate Bridge
We reached San Francisco close to night, and also it was the night of 10th April here in US, and morning of 11th April in India. And that means, it was the day of ICC World Cup 2011 India Sri lanka final, and was going to play against Sri Lanka in Mumbai. While everyone in the family was sleeping after that tiring day in Yosemite, I was awake refreshing Cricinfo.com site every few minutes, just to check the latest score. With India batting second, I thought of taking a short nap, so that I can spend time next day touring SFO and also get up to watch Indian innings. Our plan for morning was to go to Golden Gate Bridge first, and as we started driving, the final match was in its most crucial phase. After 15 minutes of drive we reached Golden Gate Bridge, as I parked the car in the visitor lot there‌ India was almost home with the game, and cup. I will never forget when Dhoni sent the ball out of park with his huge Six, I was looking at Golden Gate Bridge, but my mind was very much there among the maddening crowd of Wankhede stadium in India. It was such a relief, after so many years of wait and false hopes, for me those moments and Golden Gate as become part of unforgettable memory. Rest of the day we spent again in site seeing different places, driving all over SFO downtown and experience those zig zag roads.
San Francisco to Los Angeles Drive
Next day, we had planned for the most exciting part of this trip. Drive from San Francisco to Los Angeles on route 1, along the pacific coast. It's around 400 miles distance and among the top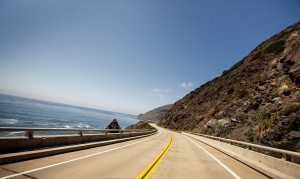 road drives in the world. We stopped at number of places in this drive like Santa Barbara, Malibu Beach, Cachuma Lake. My daughter who was 8 then, was big fan of Hannah Montana then and she had this vague idea that Hannah Montana lives at Malibu beach, so we stopped at Malibu beach, and while we were enjoying the waves, my daughter was trying to see every side to find out if she can find those locations that were very familiar in Hannah Montana series. In between the trip we stopped at multiple places, sometime to enjoy the fresh strawberries on the roadside, and some time to just stop at the beach to watch waves. We covered this 400 miles purposefully in two days to ensure we savor each and every moment of it.
Los Angeles Beaches
After reaching Los Angeles, we spent next two days visiting all the famous attractions there, and also visited Disneyland park. But after seeing giant sequoias, spectacular Yosemite and beautiful beaches on route 1, these city lights were not very appealing. Maybe it was a hangover of those natural and stunning pieces of nature that makes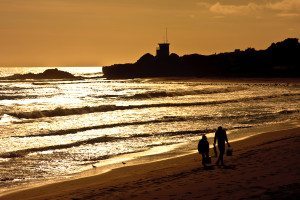 you believe in God.  Places like Yosemite Falls, Half Dome, Glacier Point, Tunnel View, Mariposa Grove of Giant Sequoias, El Capitan, once you have seen them, you will know why Yosemite is one of the top 3 attractions in all the national parks in USA.
As our trip got over, and we completed our whirl wind tour, we packed all our bags along with countless memories and took the flight back from Los Angeles to Chicago. That trip is always memorable f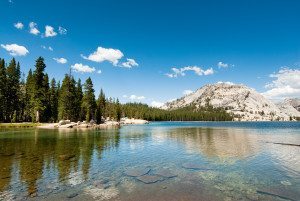 or me, not sure if it was the world cup win that added some more romance to it, or was it the combination of mountains and beaches along with some of the best sights in the world, like Golden Gate Bridge and Sherman tree. Whatever it was, looking back, I feel I left a part of me there, and I will go back again to be with that.