This post has already been read 1630 times!
Kushinagar
Around 55 kilometers from Goarakhpur, Kushinagar is one of the principal pilgrim centers of Buddhist pilgrimage. It is the place where Lord Buddha died and attained Mahaparinirvana. Known for its stupas and temples, Kushinagar attracts thousands of tourists every year from all parts of the world.
This place has for long remained neglected, without showcasing its importance and uniqueness on tourist map. But it has seen major infrastructure uplift in the recent years that is pushing tourism in this region. Along with globalization and social media push, this place is slowly becoming more visible and talked about as major tourist center for Buddhist as well as non Buddhist tourists.
Gorakhpur to Kushinagar
I visited Kushi Nagar during my last stay in Gorakhpur in the month of July. Gorakhpur to Kushinagar drive by road takes around one and half hour and passes through some very densely populated areas and markets. We had kept whole day for the visit and it worked out really well, as we started from Gorakhpur at around 9:00 AM and reached Kushinagar around 10:30. It was bright sunny day, and with light breeze, the day was perfect for us to explore the city.
Top Attractions in Kushinagar
Nirvana Temple
This sacred city of Kushinagar has multiple monuments, clustered in three groups, the Nirvana site, the central stupa and surrounding monasteries, and Ramabhar stupa.
Nirvana Temple is one of the most frequented among Buddhism shrines in the world. The place evokes emotion for every Buddhist because it is the same temple near which, Buddha died.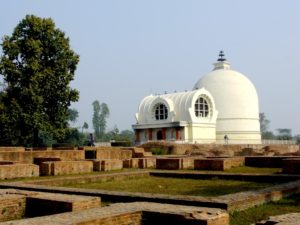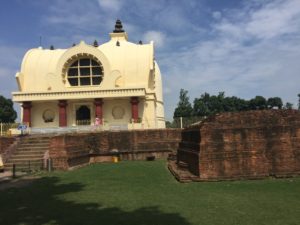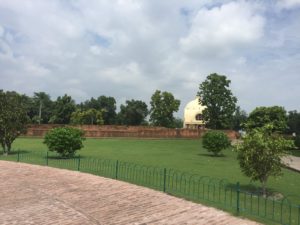 Nirvana Temple houses a statue of reclining Lord Buddha that is 6 meters long. It is believed that this statue represents the very last moments of Lord Buddha i.e. moments before he attained Mahaparinirvana. You will find monks sitting around the statue for hours and doing religious prayers.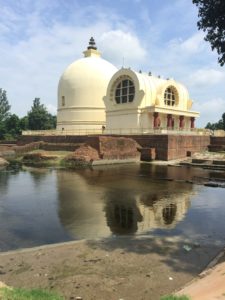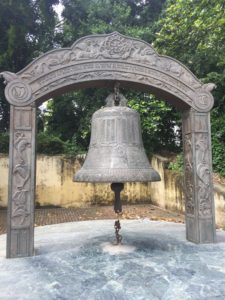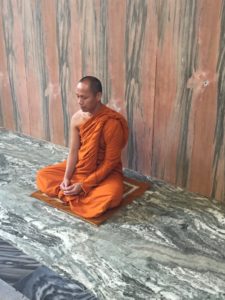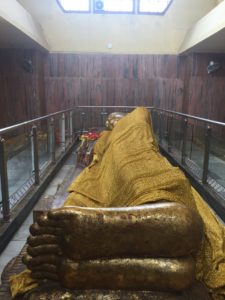 The sculpture was unearthed during the excavations of 1876. Carved from chunar sandstone, the statue represents the dying Buddha reclining on his right side. An inscription there, dates the statue to the fifth century AD.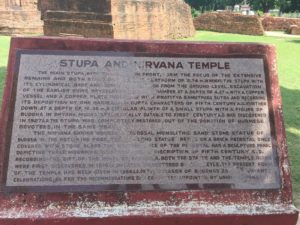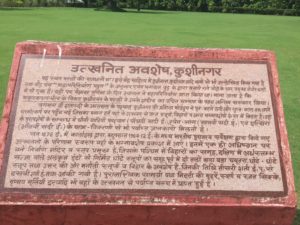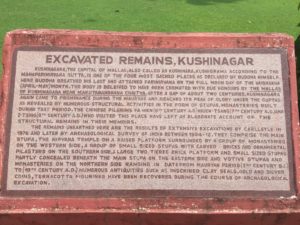 Burmese Temple or Mahasukhamdada Chin Thargyi Pagoda
This beautiful pagoda is one of the newest and most visible stupa in Kushinagar. More than 100 feet in height, this pagoda can be seen from a long distance as you enter in Kushi Nagar, and with its golden color metallic structure, its shines beautifully on a sunny day. It was built in year 2005, and is manged well and has specific hours when visitors can go inside.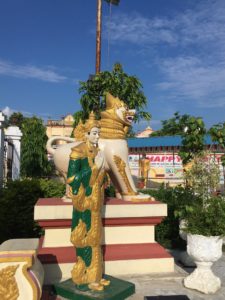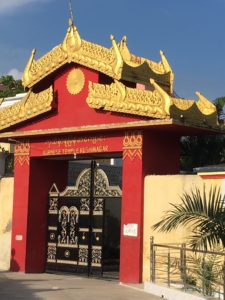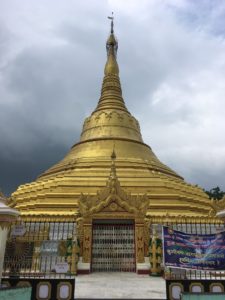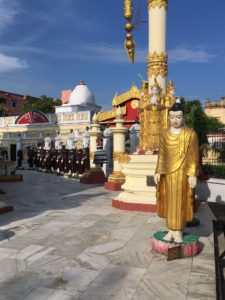 Just outside of pagoda there are many shops selling toys and lot of hand made crafts, bangles, utensils, dresses etc. It does add to the overall atmosphere, but the quality of most of these toys and items you get here is very basic.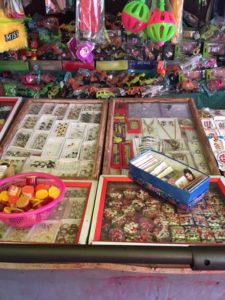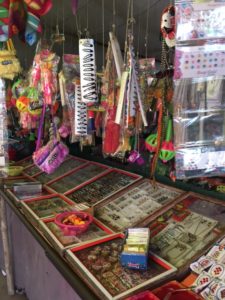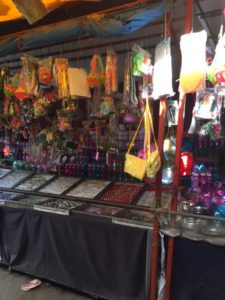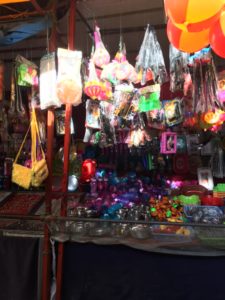 Vietnam Chinese Buddhist Temple
At a little distance from Burmese temple, there is another sacred temple called Linh-Son Vietnam Chinese Budhist temple. Based on traditional Han Chinese and Vietnamese architecture, its very different from other temples in Kushinagar.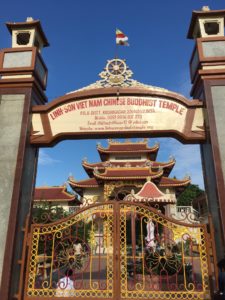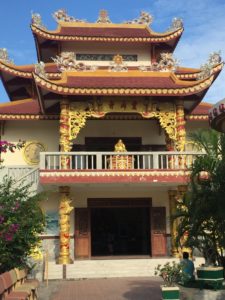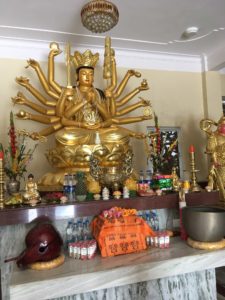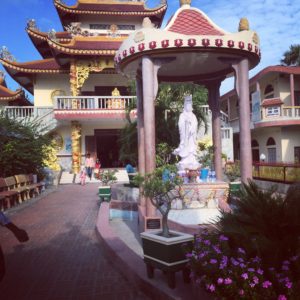 Buddha Museum
Around half a kilometer from Nirvana temple, there is Buddha Museum which is managed by UP State Government Cultural department. On most of the days it is open from 10 AM to 4:30 PM. You will find lot of coins, statues, sculptures, architectural remains, paintings and seals, which were discovered from various excavation sites around the temples and stupas. Looking at the vast treasure of antique artifacts, this museum could be better managed, but never the less, its a must see attraction in Kushinagar.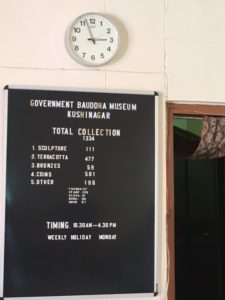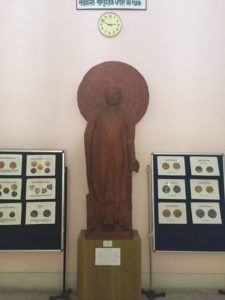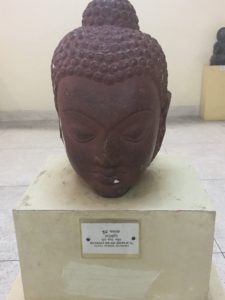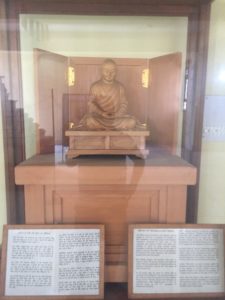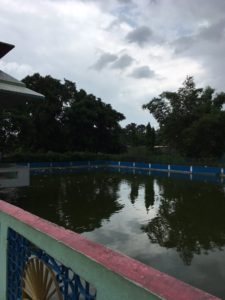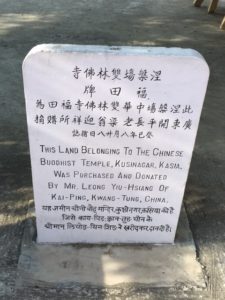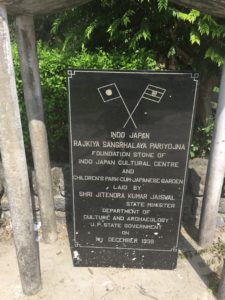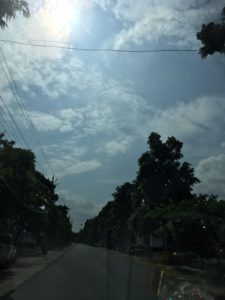 Ramabhar Stupa
Ramabhar stupa is believed to be the location of Buddha's cremation in Kushinagar. A very peaceful place, you can spend relaxed time in walking and meditating during your day long trip in Kushinagar.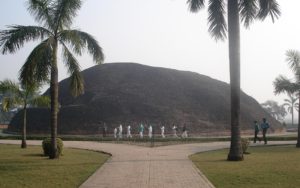 Wat Thai temple
Centrally located, Wat Thai temple is one of the most beautiful temple, visited frequently by all the tourists that come to Kushinagar.  This temple shows fusion of Thai & Buddhist architectural builings.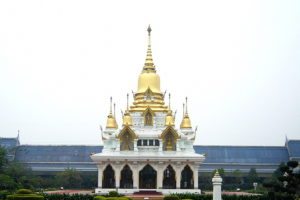 Pathik Niwas
We covered most of the temples in around 4 hours and after all that temple hopping started looking for some decent restaurant where we can have our lunch. We found Pathik Niwas a tourist lodge run by UP govt tourism department. It has a decent restaurant, and we had some very good meal in a relaxed environment.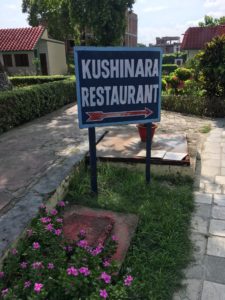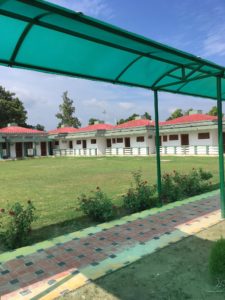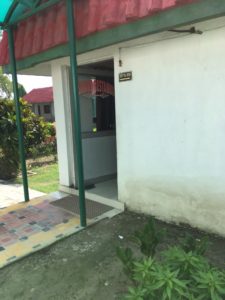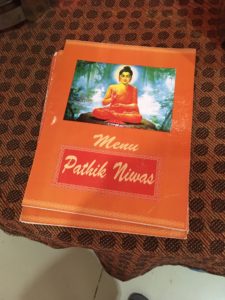 After lunch we went back looking at some more parks, temples and stupas scattered all over the town with in the radius of 2-3 kilo meters.
At around 5 PM in the evening, we were pretty much tired and decided to drive back to Gorakhpur. As we drove back from this sacred city, those pictures and images from various temples and stupas kept coming back in my mind. So much of history, culture, architecture and diversity, and that is the unique feature of Kushinagar.