This post has already been read 2592 times!
Stamford, CT to Milwaukee, Wisconsin road trip
Driving from Stamford, Connecticut to Milwaukee, Wisconsin, was probably our first interstate drive from East Coast into MidWest of United States. Maybe it was just a stroke of luck that we relocated to MidWest 7 months after this trip. Somewhere this trip opened up to look at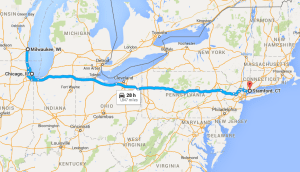 Midwest like never before, and we are hooked till today.  It was November of 2009, when we planned along with one of our very close to drive to Milwaukee, to visit another long time friend. Since it was our first long trip and we had two kids with less than one year age, we planned it meticulously. Right from rental car, to on the way hotel stays, everything was booked in advance. A habit that got changed as we drove more and more in coming years.
While we planned to go to Milwaukee, our itinerary also included a day trip to Chicago. We did not know that Chicago will charm us so much that we will spend many more years living here.
We drove pretty much full length on I 80 west and then later on I 90 and I 94, before we completed our 14 hours journey to reach Milwaukee. In between we had stayed in Toledo, Ohio for the night, and considering we had two infants with us, we had to slow down a bit. While most of the drive was normal, the most striking feature of that drive was driving through mountains and valleys of Pennsylvania. It was gorgeous and amazing landscape, difficult to forget.
After reaching Milwaukee, next 3 days we spent going around lake fronts in Milwaukee and all the tourist places, like Milwaukee Art museum, Miller Park, Riverwalk, Veterans Park, The Domes, and many other. In the freezing cold of November, visiting Milwaukee lakefront was unique experience. Kids had the most fun as they were covered from head to toe but still had energy to run around.
On the third day, we went to Chicago. Knowing that we did not have much time, we bought Chicago city pass, (http://www.citypass.com/chicago), and that helped us to cover some of the most visited attractions in the single day that we had kept for Chicago. Right from Skydeck, Shedd Aquarium, Field Museum, we went to Adler Planetarium and later to Navy Pier also. By the time we completed our day, we all were exhausted and kids were almost sleepy. There were so many things to see and so many things to do in Chicago, and I believe that is why our destiny brought us back to this windy city, to spend many more years here.
Last day of our trip again went into some more sightseeing in Milwaukee, and spending time with all the kids. By the time we left in the evening, we had almost completed 6 days of the trip, and were ready to drive back on the long road back home, Stamford. True to our nature, we did take a diversion while driving back, and went to Pittsburgh to see the Balaji temple also. It was just the right kind of closure on one of the first long trip that we took in our life and the experience of that has become an unending habit now.