This post has already been read 2587 times!
Chicago to Yellowstone National Park road trip
Yellowstone National Park is one of the world's top destinations for vacation and adventure. Many times we thought of planning the trip but somehow it always eluded us. We always thought it's too far, and may not be good enough to drive that much. Then all of a sudden in the April of 2012, we finally decided to drive up to Yellowstone National Park and just like always, we started scouting for friends who would like to go along. Niraj and Shipra immediately agreed so a group 6 people we decided to take the trip, in two different cars.
Chicago to Mount Rushmore Drive
Chicago to Yellowstone drive passes through some of the most beautiful and diverse attractions, and we wanted to cover them all. We wanted to cover Badlands National Park & Mount Rushmore before Yellowstone, and hence we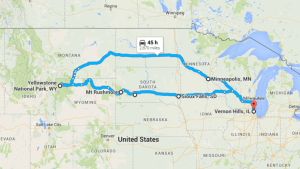 planned it accordingly. We started on Friday afternoon at around 2 PM, and idea was to stop in Sioux City, IA  for night. Distance of close to 460 miles, we covered in around 9 hours and close to midnight we reached to our hotel in Sioux Falls area. We wanted to have a good night sleep and restart on our epic journey next morning. While we were driving, we came across heavy rains, thunderstorms and all kind of weather variations that we captured in our cameras.
Next day at around 10 AM we started the second leg of our trip and drove straight to Rapid City breezing through the plains of South Dakota. With road speed limit of 90 miles/hour, driving in SD is wonderful experience, just make sure the gas tank is always half full. There are stretches where you will not find any gas station for 60-70 miles. After a sedate drive of 6 hours we reached Rapid City in late afternoon and straight went to the hotel, for rest and late lunch. After almost 900 miles of drive in last 24 hours, kids were getting restless and we thought of cooling off in hotel that evening.
Mount Rushmore National Park
Next Day morning, we started for Mount Rushmore, which was around 40 minutes' drive from our hotel. Drive from Rapid City to Mount Rushmore is easy as you take SD Highway 16 and 16A to reach there. Lincoln Borglum Visitor Center has impressive collection of facts and artifacts about Mount Rushmore and spending time there listening to various guided tours is very fulfilling. America's Shrine of Democracy, Mount Rushmore National Memorial features the 60-foot faces of four great American presidents who represent the birth, growth, development and preservation of this country.
Beauty of Badlands
Later in afternoon we drove to Badlands National Park. Badlands has striking landscape that boasts of maze of buttes, canyons, pinnacles and spires. Skeletons of three-toed horses and saber-toothed cats are among the many fossilized species found here. This inhospitable scenery is strangely beautiful and one of South Dakota's most visited destinations. Later in the day we went to see Crazy Horse Memorial. It has been a work in progress since it was begun in 1947. The head and upper body portion of Chief Standing Bear have been carved into this mountain, similar to the Mount Rushmore carvings. Although it is not completed it is still an impressive site and has already been dedicated as a memorial.
Since we were driving from the Dakota's we decided to enter from the East entrance, and decided to take a cottage house on rent in Cody, WY. Other reason also was that tourist season was not yet started and most of the lodges and hotels inside the park were closed. So there we were at the doorstep of park, some 50 miles away in cozy rental home.
Majestic Yellowstone National Park
Yellowstone National Park  is real wonderland that has greatest concentration of geysers in the world. Old Faithful and the majority of the world's geysers are preserved here. This park was established in 1872 as America's first national park. As we explored this park for next 4 days, we came across mountain wilderness, herds of bison and elk, and much more than one can describe in words. Truly Yellowstone National Park is one of its kind and has unique ecosystems in the Earth's temperate zone.
Yellowstone National Park is a nearly 3,500-sq.-mile wilderness recreation area atop a volcanic hot spot. Mostly in Wyoming, the park spreads into parts of Montana and Idaho too. Yellowstone features dramatic canyons, alpine rivers, lush forests, hot springs and gushing geysers, including its most famous, Old Faithful. It's also home to hundreds of animal species, including bears, wolves, bison, elk and antelope.
After four days of stay and visit to Yellowstone National Park, we took the drive back early morning, and covered close to 800 miles on our way to reach Sioux City again, where we stayed for night. Next day after taking proper rest we started early afternoon and reached back home in night, with memories of lifetime and experience of this epic road trip for years to come. Drive from Yellowstone National Park to Chicago is pure adventure and thrill. Go and enjoy the drive you are really road warrior !