This post has already been read 1119 times!
Road trip from Chicago to Arches National Park, Utah
Arches National Park was on our bucket list for many years, and finally in December 2019, we made it. A road trip covering almost 3200 miles, needed lots of planning and patience.
We started from our home on 21st December, early in morning and the plan was to drive for next 10 to 12 hours and reach as much as we can go. The total distance from our home to Moab was around 1400 miles, and we decided to cover around 800 miles that day. After crossing Illinois, Iowa, and finally in Nebraska states, we reached North Platte at around 9 PM in the night. We stayed in Spring Hills Suites, North Platte for the night. Next day again we started after the breakfast, at around 8 AM.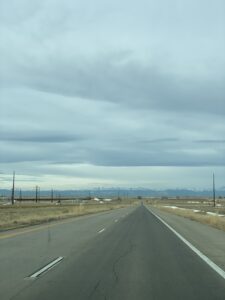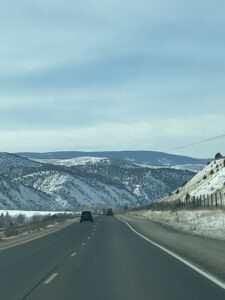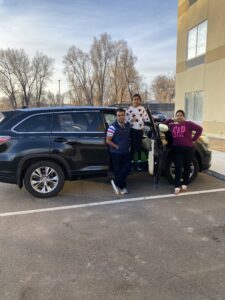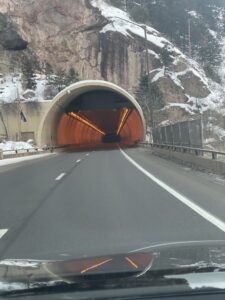 Driving through Colorado was one of the best experience of this tiring road trip. Snow capped mountains and valleys and fresh snow everywhere, we kept on accelerating and entered Utah state at around 2 PM. From Nebraska to Colorado to Utah the landscape changes dramatically. We reached Moab at around 3 PM, it's a beautiful small town, and the gateway to Arches National Park. We had our bookings in  SpringHill Suites in Moab. Its on the outskirts of Moab, and very close to Arches National Arches National Park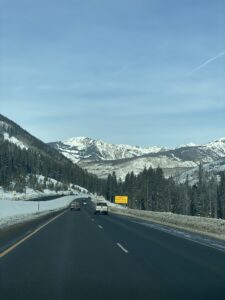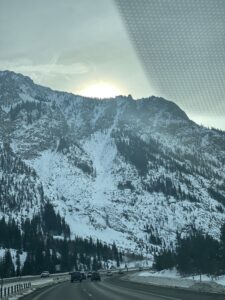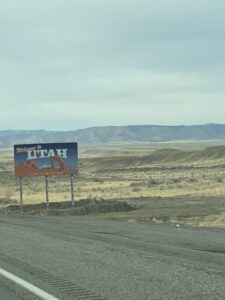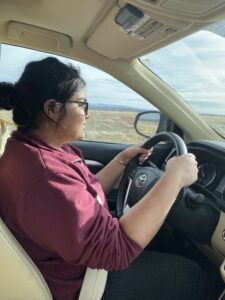 Arches National Park
We were little tired and went straight to hotel. After an hour we decided to go to Arches National Park visitor center. By then it was closed, so we decided to go to see the trail. It was around 5 PM when we reached the starting point of the trail.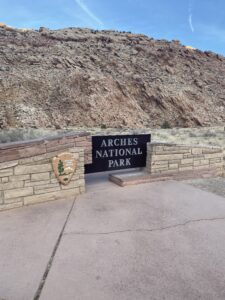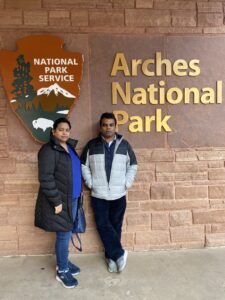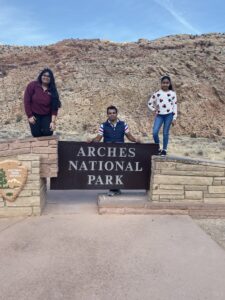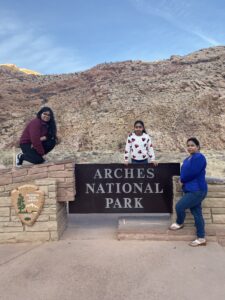 In Arches National Park, the most famous attraction is Delicate Arch, a 52 feet tall freestanding natural arch. We tried going for the Delicate Arch trail and must have walked for almost half an hour, but it was getting dark and most of the people were coming back. So we decided to walk back. But that gave us an idea about the trail.
Delicate Arch Trail
Next day early morning around 6:30 AM we decided to go back to Arches National Park to see the Delicate Arch. Its around 3 miles long trail and there was hardly anyone around when we parked our car in the Wolfe Ranch parking.
After Wolfe Ranch, the trail climbs rolling hills then begins a steep ascent on a bare rock slope, with no shades anywhere close by. It was little cold and windy, when we started walking. But we had all the energy and motivation to keep going.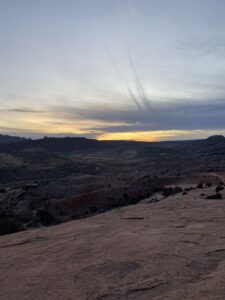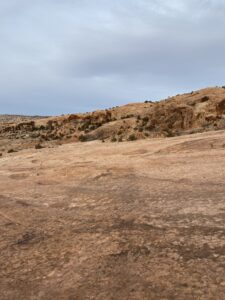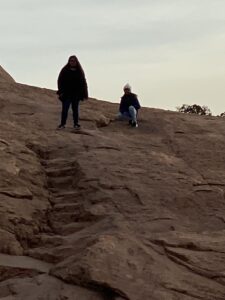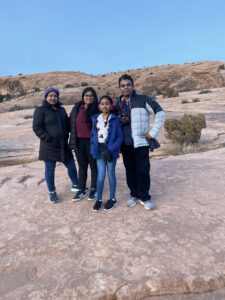 We walked for almost 45 minutes, climbing the hills while keeping ourselves covered and hydrated. The trail has lot of curves and bends and you need be careful in climbing specially when its dark out there.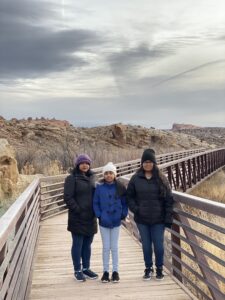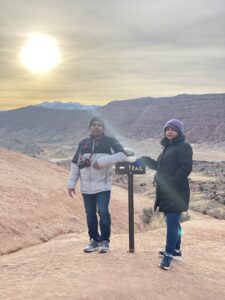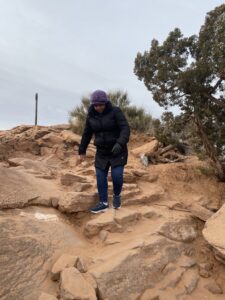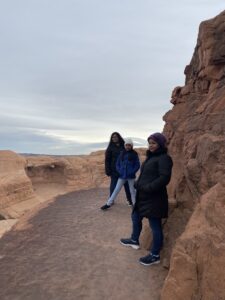 As you reach closer to the Arch, the elevation becomes steeper and bends become little more dangerous. But once you reach to the top and get a glance of Delicate Arch, its amazing and worth all the climbing. The best part of our hike was, when we reached the Arch, there were no crowds, and we had all the time to take pictures and enjoy the beauty while it was getting soaked under the sun.

We spent almost an hour at the Arch, but it was getting colder and our little one was almost shivering, so we decided to start climbing down. By then more people had started coming and we had more company. Once we reached back to the parking it took us some time to get normal. We had some breakfast items and coffee in the car, and that helped as well.
Balanced Rock
Arches National Park is spread in hundreds of miles, and you can spend whole drive around and looking at different sand stone arches, and rugged mountains. One of the such remarkable formation is Balanced Rock. Its 128 feet tall, and the rock is standing like that for thousands of years in Arches National Park.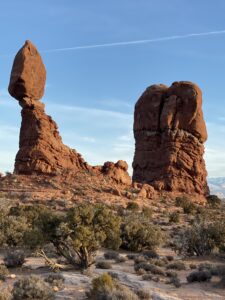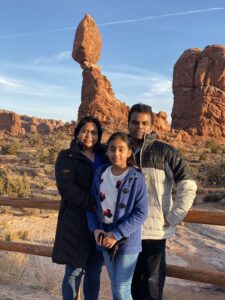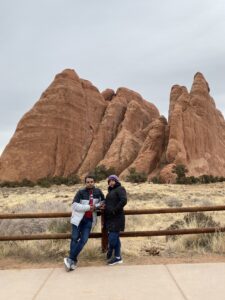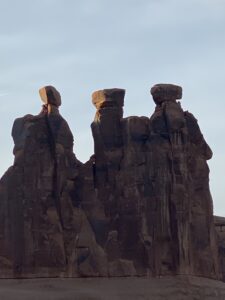 Park Avenue and Courthouse Towers
After passing the Arches National Park visitor center and climbing steeply along switchback roads, the first major area of the park you'll see is Park Avenue and the Courthouse Towers area.  You can walk among massive monoliths and towering walls and see views of the nearby La Sal Mountains. The views here are majestic and very much sets the tone of Arches National Park.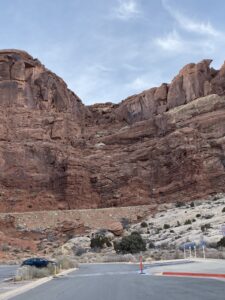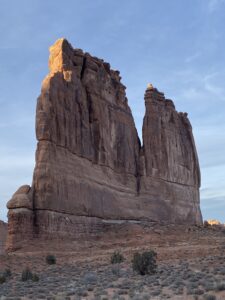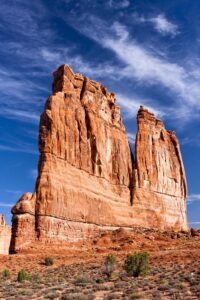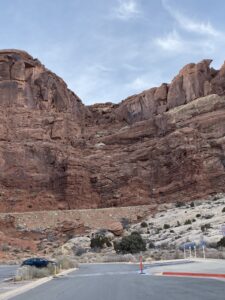 Landscape Arch
Landscape Arch is another prominent attraction in the Arches National Park that can be seen on the Devil's Garden trail. Its one of the largest trail in the park.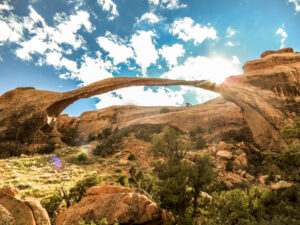 There are many trails and arches in the park that can be explored when you have time. Since we wanted to cover other parks also next day, we spent almost whole day exploring Arches, and enjoying the beautiful scenery all around. We were back in the hotel in evening and went out to explore Moab downtown. There are lot of good restaurants in Moab, and if you like Thai cuisine, Arches Thai is one of the best. Try that out if you are in Moab downtown.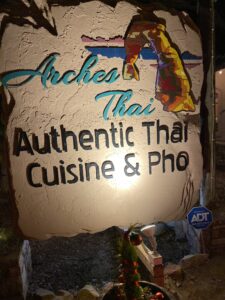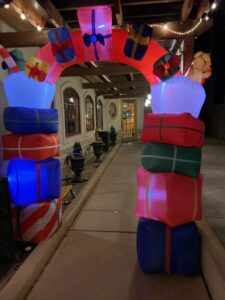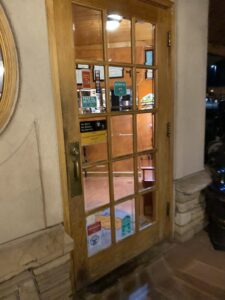 That was in short our trip to Arches National Park, in Utah. And the most beautiful attraction in Arches National Park is, no doubt, Delicate Arch, where you will see the nature at its Best. #Ghoomnaphirna